Finding My Flock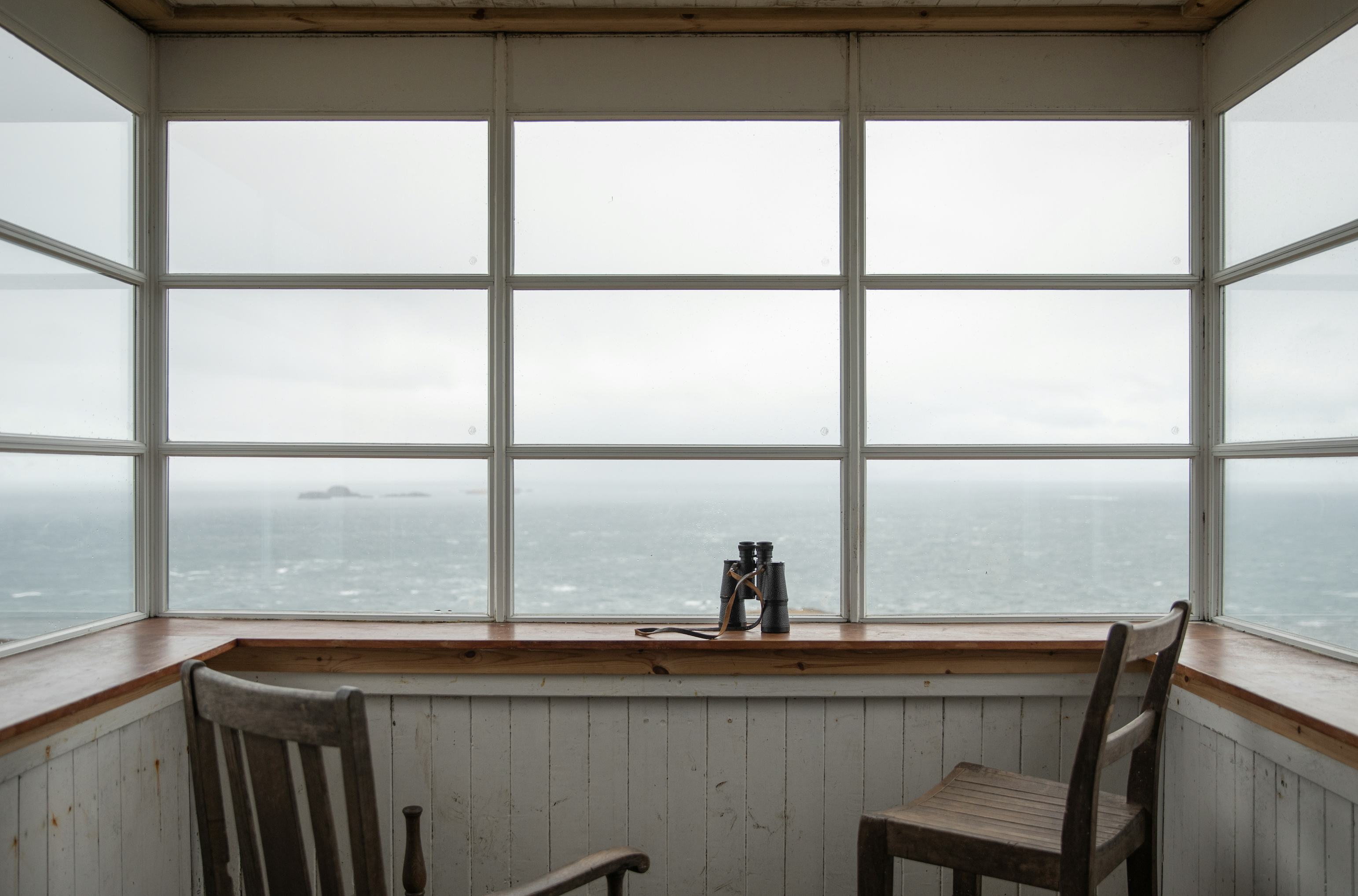 "Who else is on the reservation?" asks the assistant naturalist, who appears to be around the same age as me, as she finds my name on the registration list for a bird talk and walk one Saturday morning this past February at Green Cay Nature Center and Wetlands. As if a 32-year-old woman needs a companion to go birdwatching. In broad daylight. In a heavily populated place far removed from remote wilderness. "Just me," I reply, glad my mask is covering the smirk that has since appeared on my face.
As the lecture hall for the birding 101 talk fills in with the other registrants, I begin to realize why she may have asked that question. I am the only female participant who has come alone. The others have brought spouses or friends. More surprising is the age disparity; in the group of about 20, I am the youngest person by 40 years. Despite living in an area of South Florida swarming with retirees, I would always see the whole gamut of ages on my previous solo walks at Green Cay. Where were my fellow millennial birdwatchers at now?
Age isn't the only characteristic making me feel out of place. I'm not wearing a lightly colored pocketed vest or a safari hat, or any hat at all. I didn't bring binoculars; I don't own any. I'm in a black workout tank and shorts, ready to listen with my unassisted hearing aid–free ears and see as far as I can with my LASIK-corrected eyes.
The older participants are knowledgeable, too. As Abby, another assistant naturalist, describes the characteristics for identifying bird species—including body shape and size, color, wing structure, beak shape, and flight pattern—she engages us with questions. "Why do you think owls have fringes on their feathers?" "Why do you think American kestrels have curved wings?" "Why do you think hummingbirds can fly in any direction like a helicopter?" In response to each question, a person in the crowd blurts out the answer within seconds.
It has become quite clear that I don't belong to this flock.
*
The last up-close-and-personal encounters I had with a bird were when I was a preteen. In my grandfather's greenery-drenched sunroom, I would reach into the cage of his yellow canary, fittingly named Tweety, lightly caressing her belly until she hopped onto my extended index finger. With her feet firmly gripped around my finger, I would slowly transport her outside of the cage. I would observe her intently, peering into her tiny black eyes and listening to her piecing chirps as I wondered why she relinquished her chance at freedom, perching on me instead of flying away. After Tweety died, birds completely fell off my radar.
That was until last December, when I moved from New York to Florida. I was seeking out warmer, snow-free weather; lush tropical landscapes; lower taxes; a less-stressful pace of life; and new beginnings after a blindsiding divorce. But unknowingly, I had relocated to a birdwatching mecca. Almost everywhere I drove, I spotted brown square-shaped metal signs with a swallow-tailed kite to mark the Great Florida Birding Trail. As I came to learn, these signs point bird-lovers to 510 prime sites across the Sunshine State for viewing the more than 500 bird species—both year-round residents and migrants—recorded here. The Florida Fish and Wildlife Conservation Commission initiated this 2,000-mile trail in the early 2000s in response to the growing public interest in birdwatching. Considered the fastest-growing "passive sport" in America, birdwatching attracts about 50 million people in the United States, according to a survey by the U.S. Fish and Wildlife Service.
The Great Florida Birding Trail is divided into four sections: Panhandle, West, Eastern, and South. Tucked a mile away from my house, Green Cay is one of the sites in the South section. The 100-acre preserve guides visitors along nearly two miles of elevated boardwalk, which wind through wetland hammock, tropical woodland, and cypress swamp habitats. Though I had been to Green Cay on several occasions over the years when I would come to Florida to visit my grandmother, alligators and turtles were always the main attractions I hoped to see. Beyond noticing the cacophony of chirping, whistling, screeching, cawing, and hooting, I didn't pay the birds any attention. But now that I was a full-time Florida resident, I had to see for myself what this birding hype was all about. More than 10,000 known bird species exist in the world, and Florida is the state with the most diverse assortment east of the Mississippi River. Browsing Green Cay's website, I discovered that they offer a bird talk and walk program with a naturalist. What better way for a newbie birdwatcher to learn the tricks of the trade?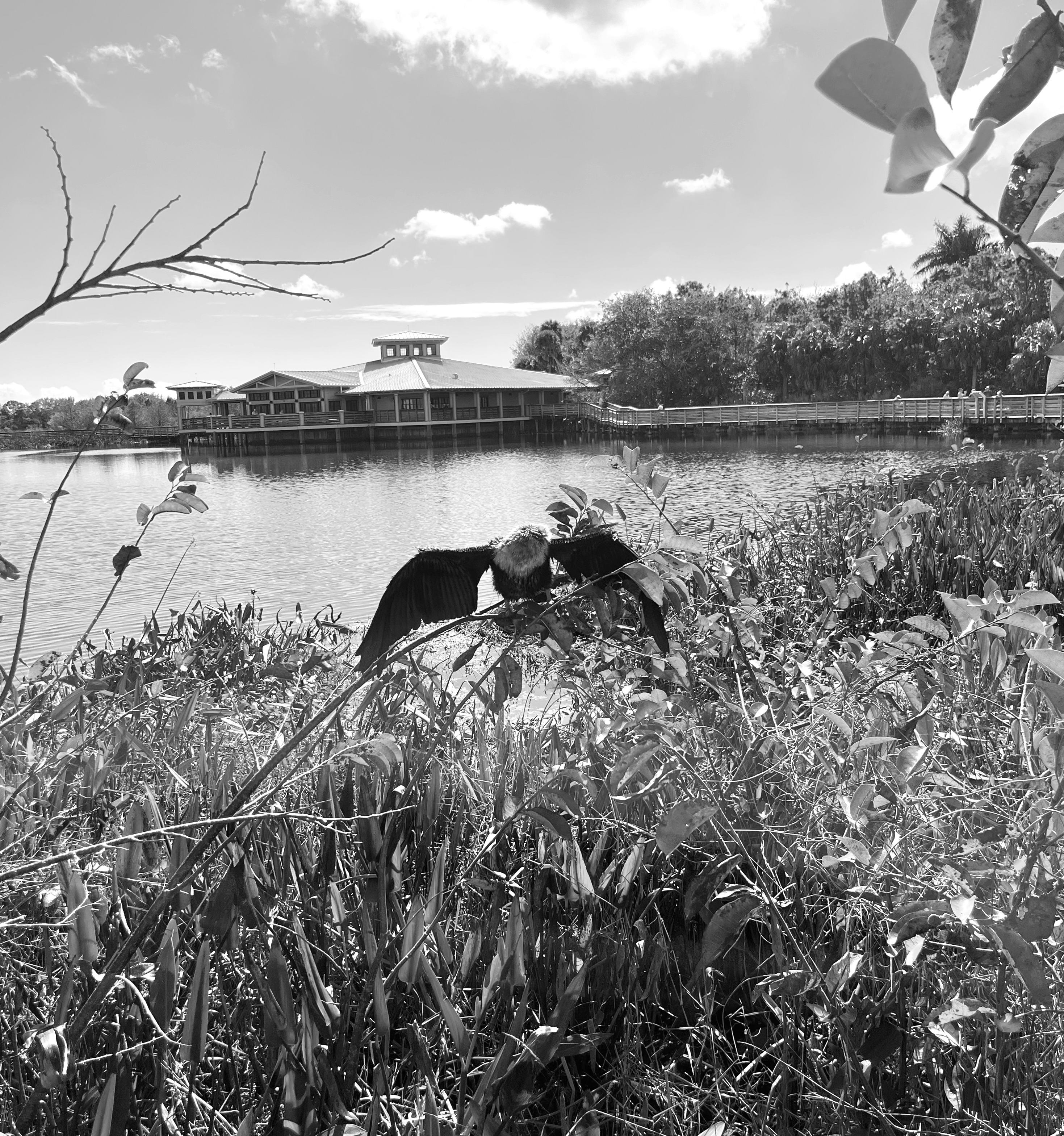 Wings outstretched, an anhinga dries itself in the Florida morning sun at Green Cay Nature Center and Wetlands.
After the talk, Abby introduces us to our volunteer for the guided walk, Marty, an 89-year-old man cane walking in white Velcro shoes.
"Mother Nature is so phenomenal that you cannot believe it. Every day here is different; there are no two days alike. You never know what you are going to find," Marty says as we make our way from the welcome center onto the boardwalk.
And find we did. In the hour walk across the sanctuary, we spot more bird species than I've seen over my entire lifetime: turkey vultures, great and little blue herons, green herons, common grackles, American kestrels, American coots, anhingas, great egrets, purple martins, red-winged blackbirds, American purple gallinules, American white ibises, globby ibises, limpkins, snowy egrets, blue-winged teals, wood storks, grebes, and purple swamphens. I'm surely forgetting some. Most I've never even heard of. "What's this, Marty?" someone in the group asks each time they spot another prize on this scavenger-type hunt. Just when I think we've maxed out on sightings, we check a different species off our mental list.
"To get all these birds here today cost me a box of cracker jacks, I just want you to know," says Marty. "They keep the prize, too!"
Every new bird spotted and correctly identified is surprisingly exhilarating. I begin to understand why birdwatching is considered a sport; a Pokémon Go–like competitive spirit is at play, even in this informal setting. Even among this group of senior citizens.
At one point along the tour, we see plump, black-colored birds gracefully gliding through the water. "Those birds out there with the white beaks and open feet like a chicken are called American coots," says Marty. "Not old coots. American coots. I'm an old coot!"
At another stop, we come upon birdhouses. Marty explains they were built for purple martins, swallows that migrate from South America typically between December and January.
"They have to make reservations six months in advance," Marty tells us. "Now ask me how they do it. They tweet! Remember, birds invented tweeting."
I figured the tour would be educational, but I didn't think it would be entertaining. And I certainly didn't expect it to be amusing. But here I am—laughing and learning among a group of 70-plus year-olds on a Saturday morning—while the rest of the early-thirties crowd is probably drinking bottomless mimosas at brunch or attending spin or yoga class. I'm actually having fun.
I wish I had a companion close in age to show them that birdwatching doesn't have to be what it's often made out to be: a creepy hobby of kooky older, upper-middle-class white men with too much time on their hands and whose wardrobes consist of REI khaki-colored clothing with countless pockets. You don't have to be an intense nature fanatic or expert with the fanciest binoculars you can buy. Anyone can be a birdwatcher. All you need to do is observe. From anywhere. As Joe Harkness, author of Bird Therapy, wrote in an April 2020 Condé Nast Traveler article about birdwatching, "Birds are the most easily accessible form of wildlife, so with the limited time we now have to exercise, what better way to boost wellbeing, to learn and explore, than to start taking notice of the bird life around you? You don't need access to wilderness to spot birds; in fact, you do not even need your own outside space."
This idea has been catching on, with birdwatching popping up in nontraditional city venues like Birds and Booze rooftop events in Los Angeles and Urban Birder masterclasses and field trips in London. These activities are attracting different audiences, helping to break the mold of what a "typical" birder looks like. A National Geographic article published last September stated that "interest in birding among Millennials, in particular, has blossomed." The birding hashtag on TikTok, half of whose user base consists of 20-to-39 year-olds, has 66.5 million views. The popularity of such social media networks and apps like eBird that track birders' checklists and rank fellow birders against each another, more affordable digital cameras (and smartphones with high-tech cameras) to document sightings, and the urge to return to the outdoors after being cooped inside during the pandemic are attributed to this revived interest among younger people in avian life.
I am proof of this trend; I snap countless photographs during the walk. When I get home, I share one of my favorites to my Instagram story: an anhinga perched on a tree branch in the grassy marsh. The waterbird's back faces toward the glistening late-morning sun. Its wings are outstretched on either side, with black-and-white piano key–like feathers fanned open in a half-circle shape to dry. The anhinga sits there still, basking in the sun. I stand there still, mesmerized by this majestical creature in this magical place. I'm noticing, I mean really noticing, a bird for the first time in 20 years.
In making my post, I no longer feel like an anomaly. I'm now part of the larger community of young bird enthusiasts. Those who can appreciate how the feathers of the glossy ibis shine an iridescent bronze, green, and violet; how the feet of the grebe are positioned in the back of its body, not in the middle, like most birds; how the great blue heron waits patiently in place for its prey; how the American kestrel snatches and slurps dragonflies; how Eastern screech owls make their homes in holes drilled by woodpeckers; how anhingas nest in colonies, sometimes together with other species, hovering above the water.
I've found my flock.
Featured photograph by Richard Gaston.
Ariana Tantillo is a science writer whose career has spanned two national laboratories: the U.S. Department of Energy's Brookhaven National Laboratory and U.S. Department of Defense's MIT Lincoln Laboratory. She is a graduate of Providence College with degrees in biology and English and is completing her master's in science writing at Johns Hopkins University.
Discover more from Ariana Tantillo
.