Following the Ancestral Trail of Bravery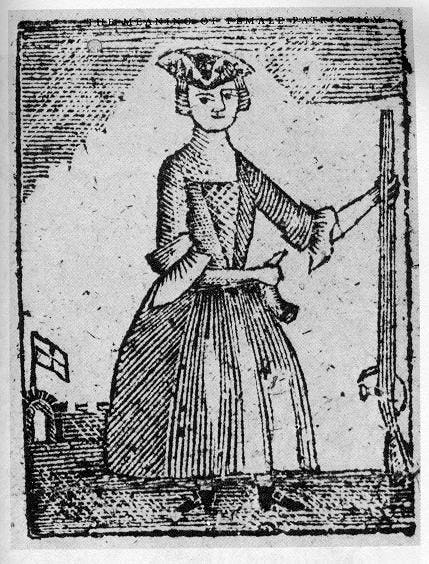 From the beginning of time, people have faced tragedies. Why do some adapt better than others? It's the history of my family that encourages me. My earliest memories are nightly bedtime tales told by my mother about wildfires, sickness, and wars my ancestors endured. These women and men confronted troubles with mental acumen rebuilding their lives time after time, trudging up the hills and down into the valleys after each loss, making a way where there seemed to be none. I'm reminded of their tenacity when troubles come.
Mercy Raymond Bedford, my great-grandmother many times removed, became the first woman patriot in the American Revolution because her husband, Captain Jonas Bedford, a loyalist, abandoned the family in 1780 to fight with the British. He was commissioned as an Officer and Magistrate and said, "I never will turn my back to my King's cause and perjure myself; I shall remain a loyal Honest Subject to my King and Country." And off he went, never mind the wife and children he left behind.
When the war ended two years later, he was not allowed home for seven years due to his service to the British. Mercy, committed to the American cause didn't let her husband's absence stop her from helping any patriot that came her way.
One story told began on a wet Spring night in March 1782. The American Revolutionists made their way to the Battle of Guilford Courthouse near Greensboro to fight the British. The weary line of men, hungry and tired, knew Mercy would feed and shelter them in her barn, her reputation well-known throughout North Carolina. Like many women in the 1700s, she was resourceful and tended to the tasks presented.
Never stopping to consider her safety or her meager food supply, she believed in charting her course. It's no surprise that she was a patriot from the beginning. Men owned the property at this point in history, and Mercy, still a young woman of thirty-six, was left to figure out how to provide for her five young children, all under the age of ten. She had four grown children who had married and moved away and couldn't offer any assistance.
She was not one to wave the white flag of surrender, so she relentlessly petitioned the court for the conveyance of her husband's property until they acquiesced. Her perseverance and determination to provide for her children regardless of the obstacles was her foundation; passing to future generations the idea one must make something out of nothing. Giving up is never an option.
Her husband finally returned in 1787. I wonder if she was angry that he left her to fend for herself? Did she understand his loyalty to the British? Probably not, as he made no financial provisions for his family or had someone to protect them while he was away. Nevertheless, Mercy was left to cope, and she did that well.
She stayed married as women did or remarried if their husbands died; it usually wasn't a love match; but a partnership for survival. I'm sure when her husband returned, she was relieved he would take over the heavy lifting; worrying about the past wouldn't feed the family. Even for a couple on a farm, the work was harsh and isolated. Her sheer determination to survive alone for seven years is remarkable.
When I complain and sink into a pity party, I only have to look back on her life bolstered to continue my journey. If she did it without modern conveniences, a husband, childcare, and societal restrictions, so can I. She planned her course, thinking fast on her feet, keeping her small children fed and clothed, and then selflessly helped others. Her story is a testament to the feminine warrior residing in all women.
I often retell the stories from the past reminding my children of the strength of our ancestors, and must stay the course, no matter what mountains try to block us. However, the unexpected death of my first-born son one summer afternoon, not long ago, tested my faith in God and my ancestral resilience.
Overwhelming grief rendered me unable to complete the simplest tasks, spending most of my time in bed. It was a battle I didn't think I could win; sixteen months later, I'm upright for longer than I'm down, focusing on one step and one day at a time, knowing I will see my beloved son Wells again, it's a small comfort, but it helps. I named my son after an uncle who fought in the Civil War, dying in battle for equality of his fellow man. Unfortunately, my son chose to gamble his life on drugs, a temporary solution to the depression he couldn't outrun. He let go of seeing anything beyond his pain, lessons of our family buried deep within. His choice nearly cemented my family in despair. But it didn't. We've tightened our bond, remembering our history guiding us through the unimaginable secured by love. Slowly we've created a new way of living without him, focusing on the blessings we have – a growing family – the birth of my daughter's baby and my son's pre-teen daughter who lost her father too soon.
At night, when I'm alone in my bedroom, sometimes prostrate on the floor with searing grief, my thoughts return to my incredible grandmother, Mercy, feeling a tighter connection knowing that she survived the deaths of five of her children and kept going. She lived until eighty-three, long years without those children, but still helping others. I think that's what saved her. I also must offer my pain to comfort others which has defined my purpose, though I never asked for it. Losing a child is a defining moment of before and after. One is never the same. But the choice remains – remain stagnant or build a more significant and expansive life, ever thankful for the blessings of family and friends.
Though I have descended into the valley of death, lingering, I have begun the ascent to the mountaintop. My faith tried and refined, and a question to be answered: Will I step out to join the living, making a conscious decision to start anew? If Mercy didn't give up, then I won't either. I will feel the fear and do it anyway, for I know God is with me. His ways are not mine. Who am I to question his plans? Pain and loss have been with humanity from the beginning, and still, we find a way to survive through the centuries and thrive if we choose to. Ultimately, it is up to us; no one else can walk our journey. Yes, our loved ones can take our hands in solidarity, but in the midnight hour, we must remember where we've come from, who we are, and where we're going.
Decisions made today affect tomorrow. I choose life and love, and if my heart breaks again, I will still move forward; my family depends on my stability and steadfastness. No matter the problems in my life, I'm only to remind myself of the courage Mercy Raymond Bedford displayed through that tumultuous time in history. She turned ashes into beauty, securing her future and those who follow.
All of us have the blood of our forefathers pulsing in our veins, nudging us forward. Taming the wild and vast country we call America, the men and women were relentless in the pursuit of freedom. We have only to look back in history to propel us to our future. As Nick Carraway said in The Great Gatsby, we can't repeat the past, nor should we, but we can choose a better tomorrow; it's all in how we respond. Our ancestors knew that. They counted the costs and continued the pilgrimage no matter the calamities, sometimes crawling toward the light but always moving.
And that decision has made all the difference.
Featured image, etching of a female combatant from "A New Touch on the Times," circa 1779.
English instructor 25 years, secondary and post secondary. Monthly OP-ED contributor for The Galveston Daily News (my local paper), Claes Nobel Educator of Distinction Award, among others. Published poet. Mother of four adult children, one of whom is in heaven.
Discover more from Leslie Cappiello
.