Too Many to Count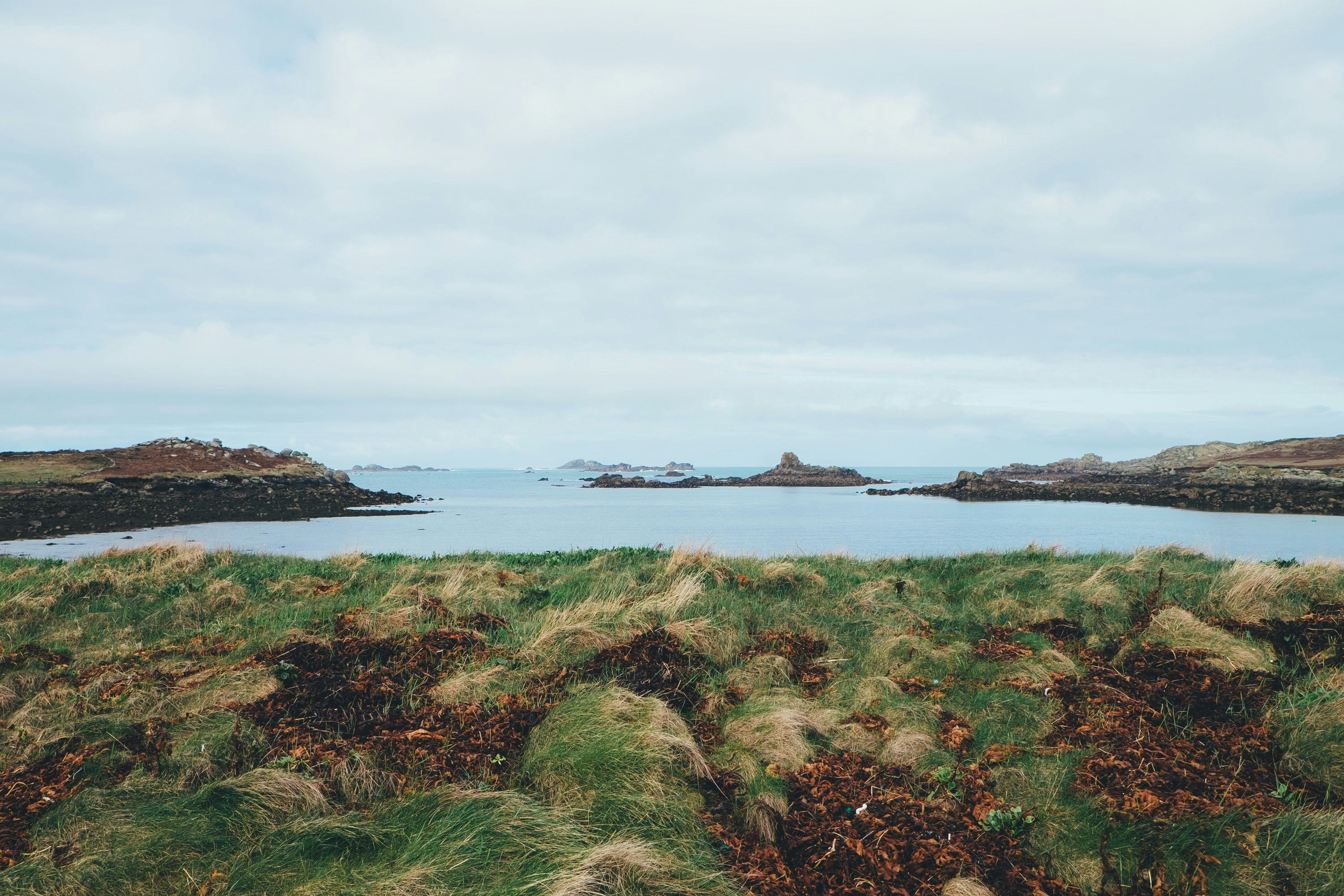 I go there again and again, never tiring of the place. When I'm away, I imagine that it waits for me, no matter how long my return might take. Other than my husband Richard, I have no close family and only a smattering of friends. If I could spend all my time sitting in a comfortable chair with this favorite view or that one, I would have found the home where I most fit.
To pick a favorite beach might be impossible. I have loved too many to count. When I write the word beach, I mean more than a strip of sand, dampened by the ocean's incoming tide. For me, the word encompasses the shoreline of rivers and creeks, and trails that sometimes run alongside. And then there are lakes, with clearings where it's possible to set down a folding chair, or a path to follow from one side of the water to the other. The word contains views from the deck of a cabin or condo, or even six miles up a steep trail, where a lake suddenly appears, surrounded by forest and in the shape of a heart.
The shoreline might be sandy and soothing on my bare feet, or rocky, requiring sturdy boots and a pointed hiking stick to keep me upright. Weather matters, of course, and it's best with the sun shining, and warm. Storms that produce wild towering waves have their place, though.
I'm at an age when women I know spend a great deal of time talking about their grandkids. They might also reminisce about when their children were young, mourning the way kids are raised now, opposed to back then. I listen to the talk, partially interested, and also half-bored. Children have never been a subject I've known or cared about. If given a choice, I would prefer talking about rivers, the McKenzie, Metolius and Deschutes, to name a few in Oregon, or the Feather, Yuba and Merced, in California. If rivers aren't of interest, I could go on and on about lakes, a whole raft of them, just in the small part of California known as the Lakes Basin Recreation Area: Sardine and Salmon, Silver and Long, Gold and Packer, to mention a handful in that wondrous place.
Without exaggeration, I believe that beaches have saved me. Or better said, I experience something I can identify as happiness, times I've spent in nature, close to water. The joy I hear in the voices of women relating funny, adorable things their grandchildren have said or done is how I feel standing on the shore of the Metolius River, watching sunlight wink on wind-driven waves. Or floating in the middle of Packer Lake, watching an osprey soar, making an ever-narrowing circle overhead. Or snorkeling in Perouse Bay, at the end of the road, in the Ahihi-Kinau Natural Area Reserve, on the Island of Maui.
I married late. If Richard and I had rushed, we might have had time to bring at least one child into the world. But neither of us wanted a family. We had both emerged from unhappy childhoods. Some people with backgrounds like ours choose to have kids, hoping to create the warm, loving families they missed. Richard and I felt the opposite, that a family would only mean trouble.
I am aware how much our culture revolves around the nuclear family, because I'm not part of one. For every major, or minor, holiday, friends are unavailable, because they're spending the day, weekend or week with their kids. Summer vacations are the same. Instead of family or friends, Richard and I have bonded with places in nature. These beautiful spots are our family, which we have grown to love.
The first beach I fell in love with was on the Island of Oahu. To reach that part of the island, the Windward Coast, my father had to drive us from our home at Hickam Air Force Base, close to Honolulu, up and over the Pali. At the time, before tunnels were built and the road straightened, the drive was like an amusement park ride, scary and exhilarating, the winding road skirting the edge of the cliff, where King Kamehameha once shoved his enemies to their deaths.
Waves I bodysurfed, outside the rustic cabin my father rented for us, were equally frightening. I loved the thrill of catching a monstrous wave, at the exact moment before it crested and crashed, sending me swirling underneath. Instead of being caught in the whirlpool, I usually managed to ride the wave to shore, my short slender self feeling as if it had been shot straight out of a cannon.
Something seeped into my soul during the three idyllic years I lived with my parents and two older sisters on Oahu. I still feel as if I were born on that island, and have never felt quite at home anywhere since.
We left Oahu the summer before I started the fourth grade. That was the first time I can remember my military family moving, though I've since learned we lived at least four different places scattered across the mainland before that. Once a year or every other year after Hawaii, we picked up and moved someplace else.
The beach stayed with me, though, long after leaving Hawaii. Even decades later, I can stand on the sand thousands of miles away, gazing out toward the horizon, and be back on that island, feeling a mixture of melancholy and yearning, along with a sense of peace.
It wasn't only during my childhood and adolescence that I picked up and moved. I continued living a nomadic life, deep into adulthood. I did so, because moving was what I knew. Even more important, no place ever felt like home. Regardless of where I lived, I had the deep sense that I could leave at a moment's notice and never look back, not missing anything or anyone.
This, it turned out, was true only to a point. I did, in fact, miss something. In all the places I lived, I sought out beaches to help me cope – lakes and rivers, and ocean shorelines. Once I'd left, beaches were what I missed.
I live now in a small Northern California city, a forty-five-minute drive from a breathtaking, rocky coast. On sunny days, the ocean shimmers a dark cobalt, as it runs up against scattered, jagged black rock. Soon after the new year dawns, I like to stand atop the massive cliff at Bodega Head and track the wispy white spouts of migrating Humpback whales. Named after Bill Kortum, the environmental activist who fought long and hard to save this coast from development, a nearby favorite trail, the Kortum, hugs the cliff edge, providing sweeping ocean views, as it winds between Shell Beach and Wright's Beach. When I stand on the trail, watching sparkling sunlight tango with the waves, I give silent thanks to Bill Kortum. I also feel transported across the Pacific, back to when I rode those magnificent glassy waves. As I did then, I feel safe and connected to the water, thrilled with its power and grateful that it still manages to keep me afloat.
Patty Somlo's most recent book, Hairway to Heaven Stories, was published by Cherry Castle Publishing, a Black-owned press committed to literary activism. Hairway was a Finalist in the American Fiction Awards and Best Book Awards. Two of Somlo's previous books, The First to Disappear (Spuyten Duyvil) and Even When Trapped Behind Clouds: A Memoir of Quiet Grace (WiDo Publishing), were Finalists in several book contests. She received Honorable Mention for Fiction in the Women's National Book Association Contest, was a Finalist in the Parks and Points Essay Contest, and had an essay selected as Notable for Best American Essays.
Discover more from Patty Somlo
.