Protecting Ranomafana National Park with Théo Farafidson
Photography by Deborah Ross.
"Today we'll see sifakas. I know this. It rained last night and they will like the sun right now. Today is a good day for sifakas."
The morning air was cooler inside the forest, and Théo Farafidson continued to talk as we paused to don hats and jackets. Our small party stopped right underneath a large tree fern, fafaho, and Théo's eyes lit up as he described its distinctive leaf pattern and evolutionary history, even what bird species one may find under its canopy. "We'll see a lot of birds today, too," he added with a huge smile. "This is my favorite place for birds."
Théo has lived and worked in this forest - Madagascar's Parc National Ranomafana (RNP) - his entire life. Born to a small tribe living within the limits of the park, he grew up shadowing foreign researchers traveling in the area to study lemurs, and worked with many as a spotter scouting out troops in the canopy. During these childhood years, he absorbed information like a sponge. "This forest is an escape," he told me later that day. "It is a different world than the one of the town and the people of Ranomafana. When I go into the forest, I only think of the animals and the plants there. I can refresh my mind with what is right in front of my eyes. I don't think about the political crisis, or money, or anything like that."
Established in 1991, RNP is made up of more than 96,000 acres of Madagascar's submontane eastern rainforest on the slopes of the island's massive central plateau, between 800 and 1500 meters above sea level. Weather systems sweeping over the eastern coast from the Indian Ocean provide year-round rain and the conditions for unparalleled biodiversity. The park is home to thirteen species of endangered lemur (including rare Golden and Greater bamboo lemurs, Milnes-Edwards sifaka, and Southern black and white ruffed lemur), 120 species of birds, over 130 species of reptiles and amphibians, and nearly 1,000 species of plants.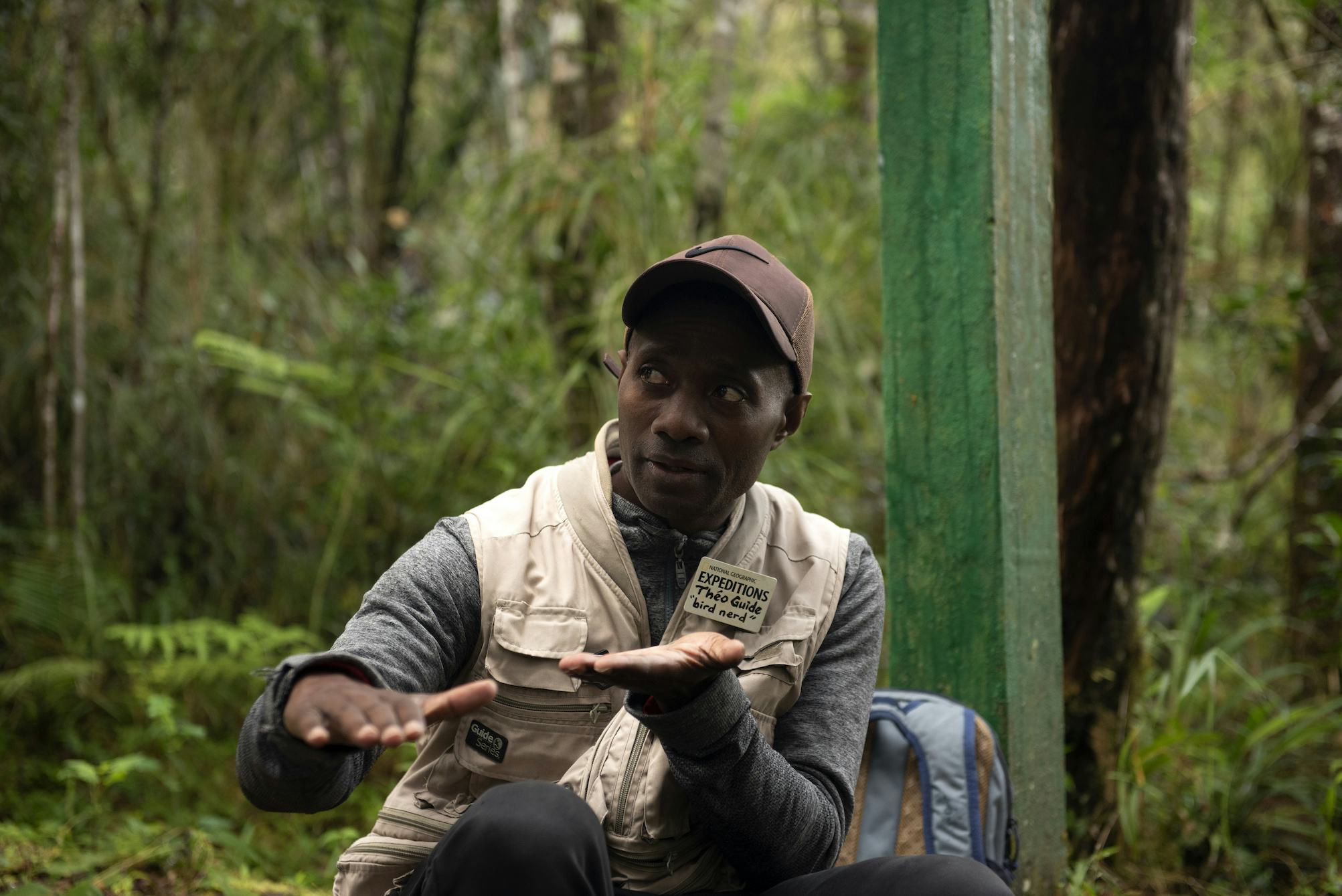 "When I was a little guy, I lived in the forest with my family… we were hunting animals as food, harvesting trees for fires and construction," Théo began. We were near the highest point of the Circuit Vohiparara trail system on the higher slopes of the park, at a small camp where structures had been built for researchers to live and work for weeks at a time. Sunlight streamed through the canopy and danced on the ground at our feet as we sat down, fished out some snacks from our bags, and started talking.
"In 1985, there were people, American people like Patricia Wright, who came to do research," he explained. "My brothers-in-law, Lauret and Émile were her guides. I was still a little guy at the time, and I was really interested in what they're doing and learning… She taught me why we need to conserve and save this forest. I no longer kill animals, instead I work to conserve nature and protect animals."
After 30 years as an official guide with Madagascar National Parks, Théo is a walking encyclopedia of the forest. After one particularly impressive bird imitation, I asked him how many calls he knew in total. "I can do 115," he admitted after a pause, but quickly continued, "We have 120 in Ranomafana!" Based on our short time together, it's hard to imagine Théo having killed an animal or cut down a tree. His extraordinary knowledge of the forest's structure, functions, and plant and animal populations is immediately apparent. Every fact is eagerly shared with an infectious enthusiasm and reverence for the animals he loves. It's difficult to say if his passion and curiosity are the result of his years spent exploring the infinite hidden corners of the jungle, or a motive driving him ever further to expand his understanding and advocate the forest's multifaceted importance.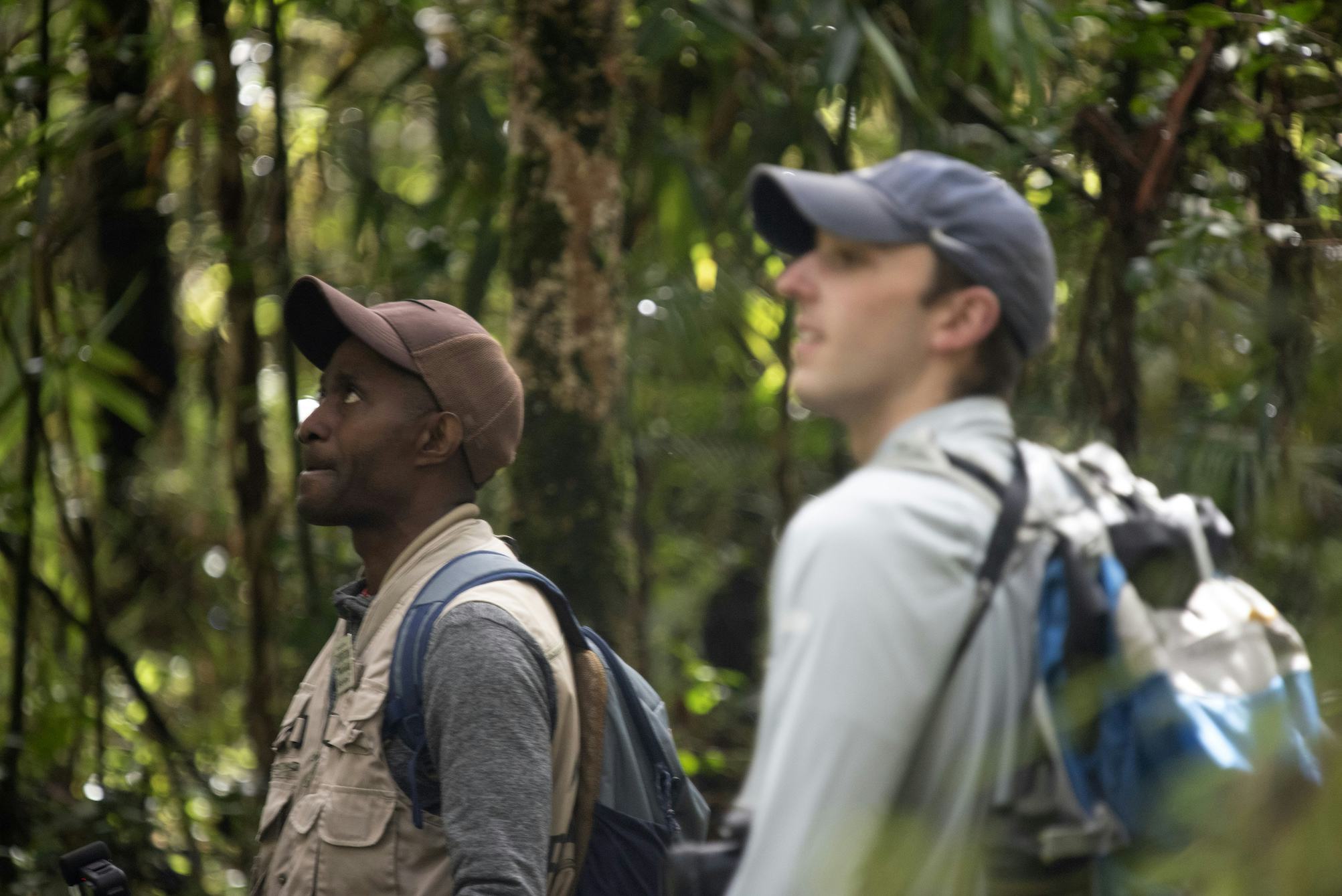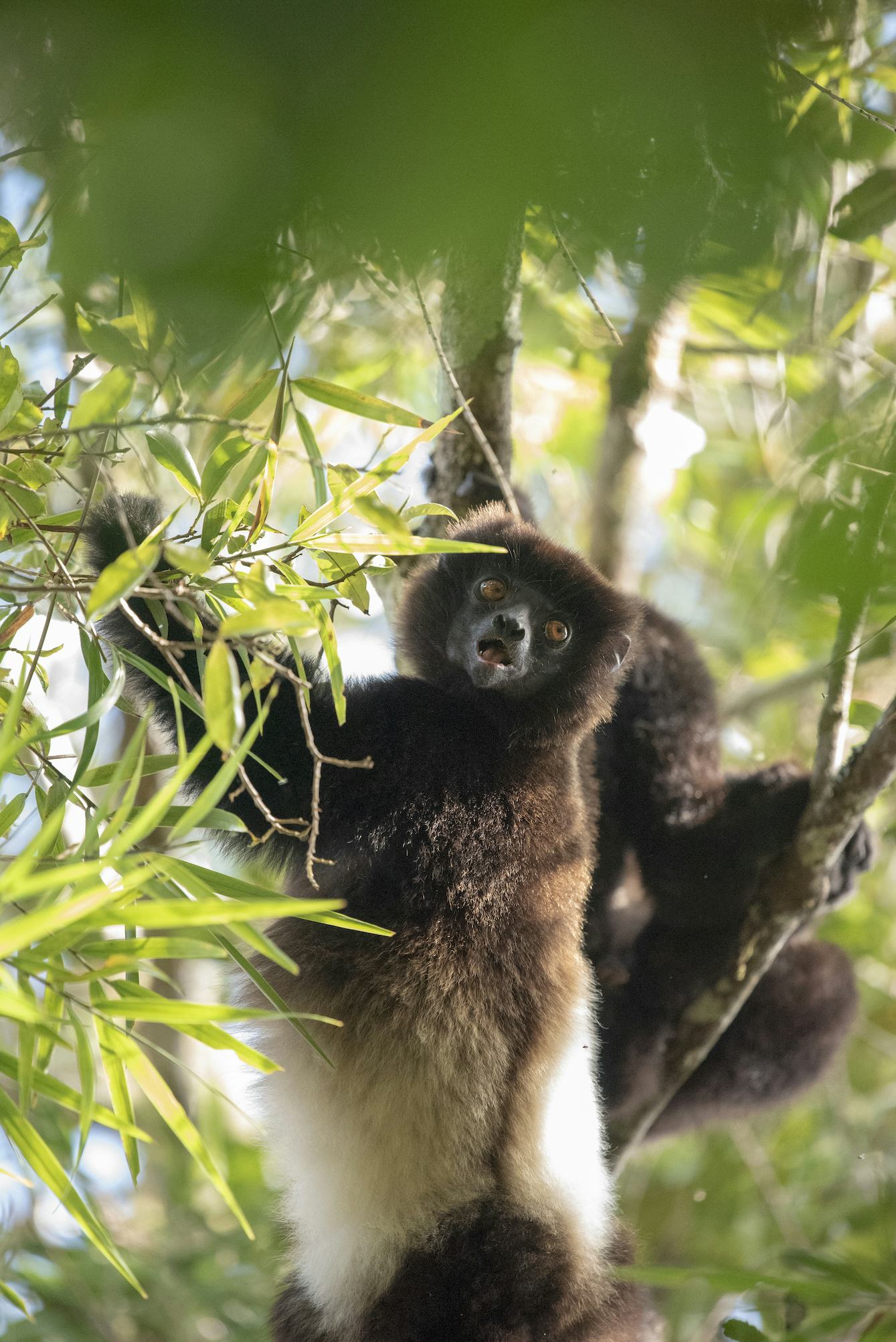 Théo also finds inspiration in his more recent interactions with the forest's complex and compelling ecology through an artistic lens. He brings along a small camera every time we venture out together, even once wearing a vest featuring his own artwork. "This guy is a pitta-like ground roller, it's my favorite bird in the forest. Painting takes a long time though, you know – I just want to have a whole day for painting, just painting." He showed me a few pictures stored on his camera as we were walking out, and I understood why he was so fascinated with the forest: in his eyes and through his lens, there was breathtaking beauty in even the smallest orchid.
After spending much time in the forest in many different capacities, Théo now finds fulfillment in a new pursuit – educating others. "I see my place in the future as a teacher. That is my plan. I want to share my knowledge with everyone," he told me earnestly. "During the COVID-19, I forgot so many things! It was a shame. I didn't have anyone to talk to. I didn't have anyone to bring in the forest. Now that I work out of hotel lobbies, I take my brother and his children into the forest with me. I will teach anyone who will listen to me, to pass on these things I know."
In teaching, Théo has strengthened his connection to the forest, motivating him to work even harder to help to mend the relationship between the people of Ranomafana and the environment. He stressed the importance of creating and maintaining social connections within and between communities, to harness the interpersonal social culture of the region and best advocate for conservation. "I need to have more relationships, more friends, who learn about the forest and help me with this work. I want to be like David Attenborough," he laughed. He understands that even if people don't understand the fine details of the forest's importance, they can be persuaded to act differently and contribute to conservation.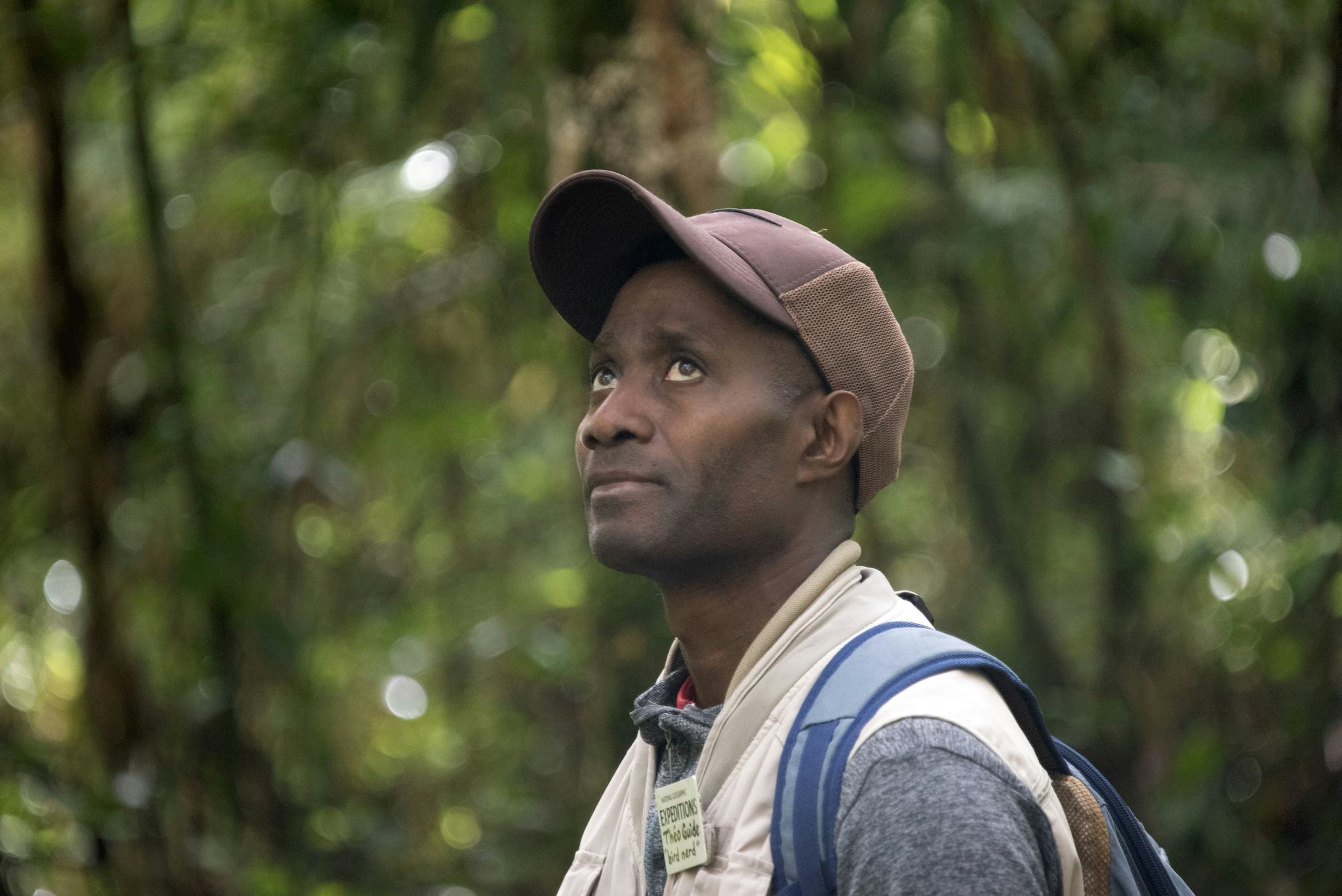 Thus, Théo's relationship with the forest - as both a student and teacher - places him in a unique position. It would be irresponsible not to discuss how conservation in Madagascar is connected to the history of colonialism and the effects of neocolonialism. The Parc National Ranomafana is a prime example of foriegn influence changing social structures without local input. The park was established when Dr. Patricia Wright discovered a population of rare Golden bamboo lemurs in 1986. Its creation by the Malagasy government forced migrations of established tribes (including Théo's) out of the newly-drawn boundaries. The principal impetus behind its protection was to prevent destructive logging practices, but that logging was only happening to provide wood for houses and clear land for human communities to farm and feed themselves. It is certain that prolonged and widespread destruction of forest habitat is harmful to natural environments and human communities alike; however, the forced protection of land previously used to provide food and shelter for human beings living in poverty raises the question, "who is more important?"
Théo's relationships with communities on both sides of this issue grants him a unique perspective. As a student of the forest, he learns about the biological mechanics of the ecosystem and develops strong relationships with foreign researchers and tourists visiting the country. (He described Dr. Wright as his hero, and picked up English through his work with scientists and tourists.) As a teacher, he serves as a resource for his peers, and strives to give back to those who helped him succeed and realize his passions. In this way, Théo bridges two communities that have very little in common: the privileged world of conservation academia and rural Malagasy rooted in subsistence farming.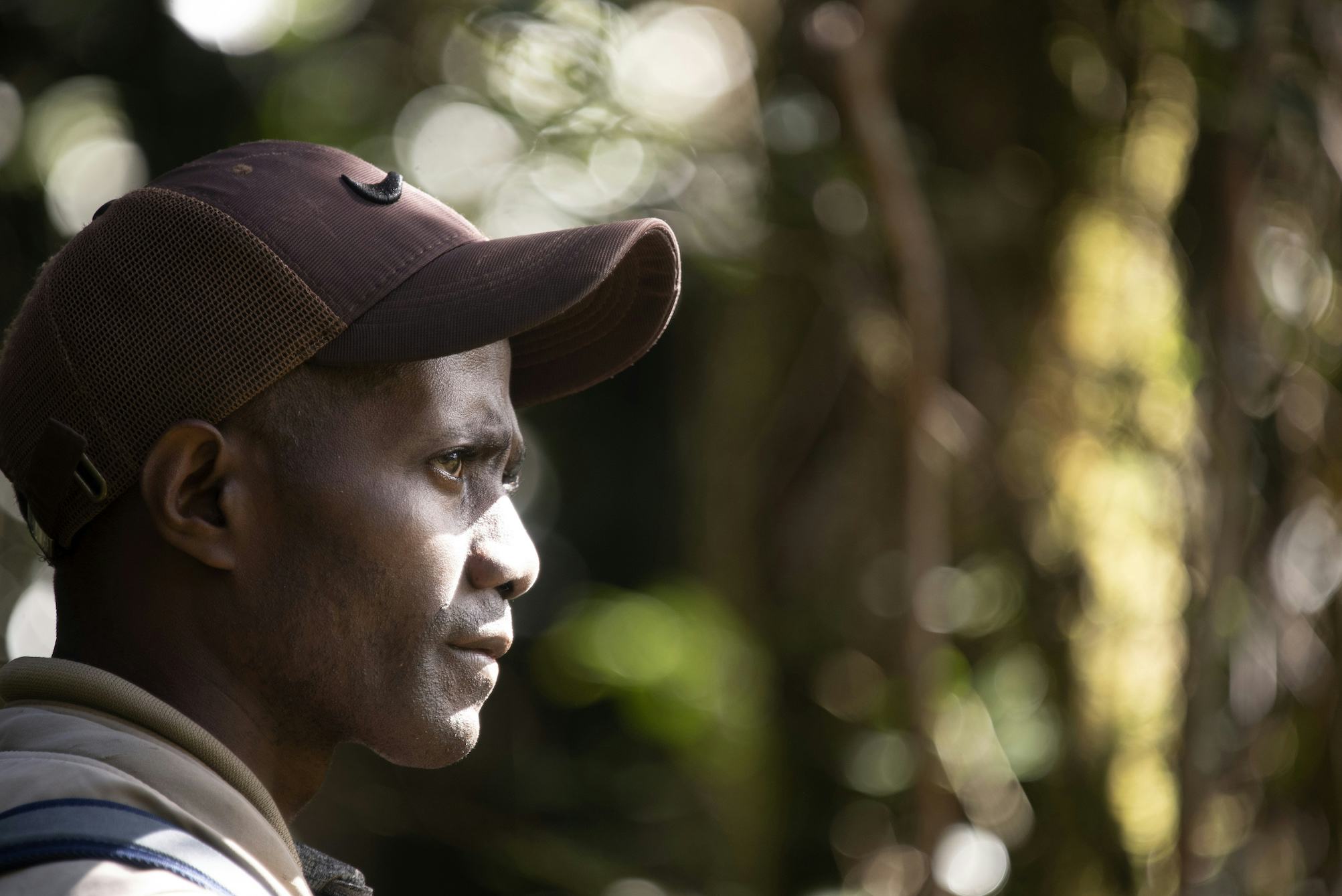 The core challenge in connecting these worlds is fundamentally political. Madagascar has suffered decades of debilitating political instability. Poor infrastructure has made the sharing of goods, services, labor, and technology difficult or impossible. Théo confirmed, "The political crisis stops everything – it was very hard and dangerous, so we can't do anything." In such a political environment, humanitarian, infrastructure, and conservation projects compete with one another for resources, and environmental conservation is only possible when people are no longer starving. "Now, it's a little bit better, but we're going to have an election again next year, so we never know what will happen."
An improvement in tourism infrastructure in recent decades has helped the country's economy, but the expanding ecotourism industry is still not enough to significantly improve the local standard of living and does not provide a long-term conservation solution. "Local people, they need more tourism to come because most people in Ranomafana work with the tourists," Théo told me, "They want the park for tourism. We need more tourists here, many more tourists."
Even on the hardest days, however, Théo still has the forest - a sanctuary behind the lush curtain of the jungle where he can ignite his curiosity and focus his energy. The forest is a harbor from the social and economic chaos of the town of Ranomafana and an asylum for the rich biodiversity of wild Madagascar, and a refuge for Théo to flex his intellectual muscles and draw closer to the people and things he loves. His unique relationship with the forest, however, is what makes this place truly special. Beyond being a social (and literal) environmental sanctuary, it is a political sanctuary that connects communities through shared resources, mutual inspiration, and a common future.
We did not see sifakas that day at the Circuit Vohiparara, but Théo showed us something much more beautiful. In the world of the forest, removed from the chaos of human community, the futility of modern-day power struggles is exposed: neither people nor the environment are more important if there exists an unhealthy relationship between the two. Théo understands this mutual reliance and has devoted his life to modeling a healthy relationship through his guiding, artwork, and teaching. The forest provides him sanctuary by engaging his curiosity, and he embodies a sort of sanctuary for it. By advocating for its ecological and cultural importance, Théo creates a model which amplifies the voices of local conservationists and when expanded out from the geography of Ranomafana and Madagascar, raises one nagging question: is this how we, as a global society, should be conducting conservation? According to Théo, the answer is, "yes, of course."
Originally from Redding, Connecticut, Nick has worked and learned in the outdoors his whole life. He is an avid adventurer and immensely curious, and his passion to explore and learn about the natural world has brought him across the United States, Europe, the Pacific Ocean, and Africa, from New England to New Zealand to Madagascar. He draws inspiration and energy from the beautiful landscapes and ecosystems he sees and studies, and currently works in the Bahamas to study and protect them.
Discover more from Nicholas Nonnenmacher
.