Immersed in the Crowd: Celebrating Holy Week in Community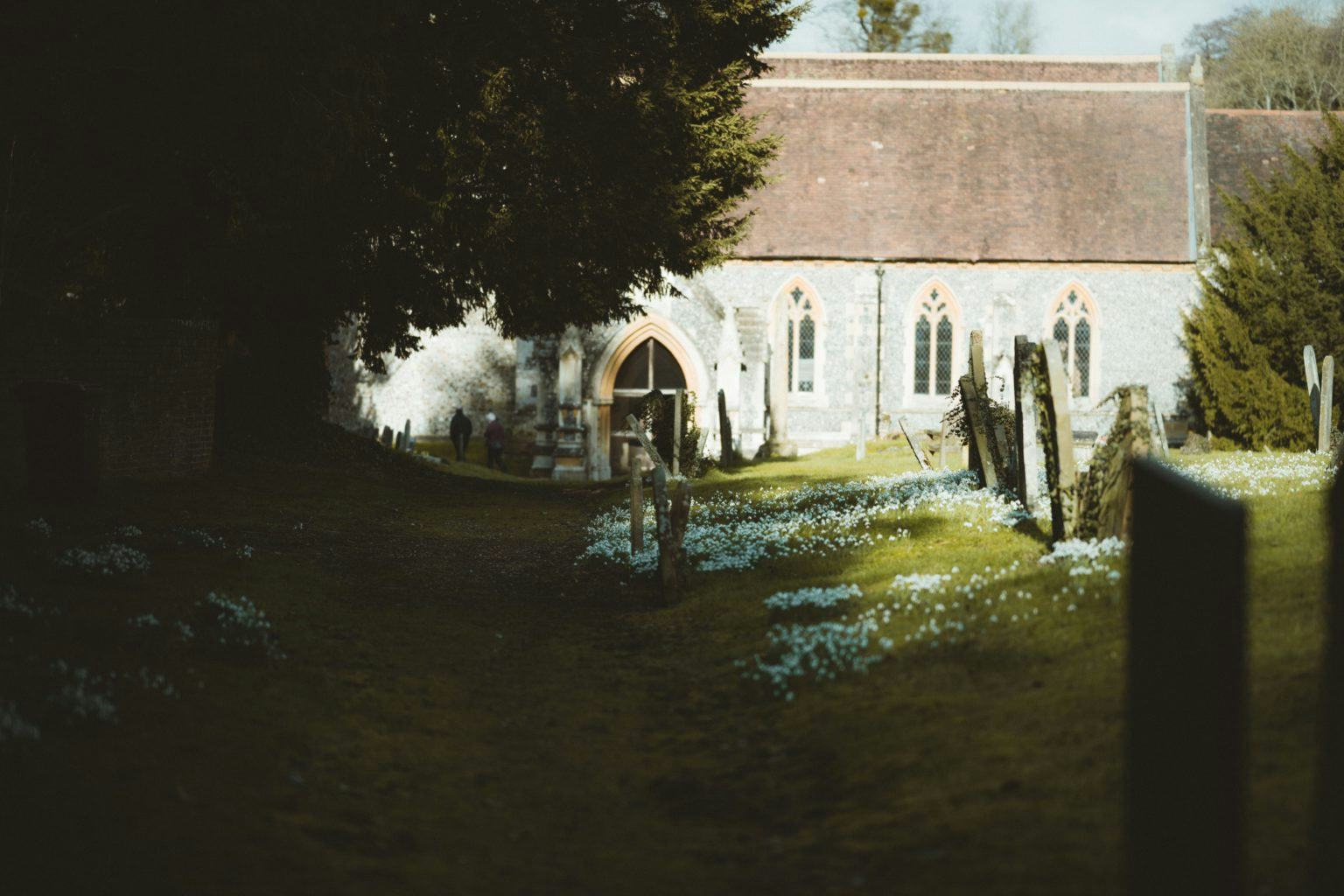 I'm a Taiwanese American Episcopal priest who is on her third career and living in her eighth state. Trying to describe "my community" can get complex and messy. Does it look more like a Venn diagram, or concentric circles, or a super robot made up of robotic lions? How does this shape my do-ing and my be-ing?
Heading into my second holy week in the time of COVID, an epiphany intertwined with a memory surfaces once more, "We came here seeking Jesus, and God gave us one another."
It was Sunday morning, and I was in the Church of the Holy Sepulchre in Jerusalem. It is one of the holiest sites in Jerusalem, built on and over what some believe to be the sites of the crucifixion and the empty tomb. As such, custody of the site is shared by the Greek Orthodox Church, the Roman Catholic Church, the Armenian Apostolic Church, the Coptic Orthodox Church, the Syriac Orthodox Church, and the Ethiopian Orthodox Church. Each has laid claim to a physical portion of the church, but the "air space" of the church cannot be divided up so neatly.
Walking through the front doors, the keys of which are held by a Muslim family, so as to keep the ecumenical peace, I had to pause to take in the multiple layers of sound: from the right, voices saying mass; from the left, voices chanting mass; above them, the familiar notes of an organ; even higher than that, the solemn tolling of the bells; and dancing through them, the twinkling of the swinging censers of incense.
It was complex, and it was messy, much like the relationships between those churches who share custody of this space, between the people of faith who walk through those doors. Initially, I experienced those layers of sounds as a cacophony. It was hard to focus on one layer without being disrupted by another. It was hard to harmonize them in my mind when the people producing these sounds weren't trying to achieve harmony.
I tried to push those layers of sound into the background, so I could feel prayerful and worshipful in the way I'm used to. As I walked through the different sections of the church, the sight of particular worshippers ushered their particular layer of sound to the forefront. Encountering them, their bodies, their liturgical movements, the vestments they wore and the objects they used, the sound felt more real, more concrete, more sacred. Gradually, the discomfort of dissonance became a deep sense of delight. Rather than disrupting my prayer and worship, their prayer and worship became mine. I held less tightly to how I think things ought to go and handed myself over to what God was revealing and how God was at work.
As I walked out the doors, I couldn't help but marvel that in a place where I, and many other pilgrims, came looking for an encounter with Jesus, God pointed us to one another. It's as if God was saying, "Here am I, expressed in and through these people around you, if you have but the eyes to see and ears to hear." When we find ourselves in the same place as other members of body of Christ, it gets messy, it gets complex. It is also a gift, because it expands our models of what it looks like to worship God, to follow Jesus, and to be moved by the Holy Spirit.
This isn't something that can only happen in the Church of the Holy Sepulchre; it can happen in each of our churches, too. Even in churches that may appear to be monochromatic, or monolithic in any other way, we encounter and come to embrace people we wouldn't have encountered or embraced if we weren't seeking God, if we weren't following in the footsteps of Jesus. Scripture gives us a common starting point for conversation we might not have otherwise. People we wouldn't have encountered by virtue of birth or schooling or employment become our siblings in Christ as we repeatedly bump up against one another in the crowd drawn to Jesus, who was lifted up from the earth on the cross.
The services of Holy Week help us enter the story in an intensified, intimate and physical way. We march in the palm procession, we wash each other's feet, we kneel at the foot of the cross, and we jingle bells and keys at the resurrection. In a time when people are generally more disengaged with the church, memories of the past, going to church with parents and grandparents, events of the present, deep traumas and tremendous struggles, and hope for the future, an impending marriage or birth of a child, can draw individuals through the threshold of a church during one of these services.
As a priest, I think about this as a chance to welcome them, to help them connect these old stories and practices to the life they are living now and the life they want to live. For those who are more regularly at church and familiar with these services, each year we can still experience something new because of where we are, who we are with (or not with) and what we've experienced leading up to Holy Week.
Last year was my first Holy Week with St. Chrysostom's. It was a few weeks after we moved to streaming our services online, and I was worried about my community. My community was the parishioners I was still getting to know, having joined the parish six months prior as the assistant priest. Among them were elderly parishioners, parents who were now home-schooling and working, and people whose stability were becoming wobbly. My community was used to connecting with God and one another in a very specific way. The impact of COVID also highlighted for me that my community was our neighbors across the city of Chicago, people losing income and jobs, people who couldn't access the services they needed to because the organizations working with them couldn't cook meals or open their doors in the same way during a pandemic. My community was friends who were leaders in congregations and organizations trying to do their jobs in this new context.
This year, as we approach Holy Week, I am also worried about my community. My community is the Asian Americans who've felt increasingly vulnerable this last year, particularly Asian American women, and those who are increasingly frustrated by erasure and invisibility in the media and among their friends and networks. My community is the BIPOC community and friends who have not just been carrying the accumulated weight of events from this last year or the last four years but from hundreds of years. My community is the denomination I love and am also frustrated with, and leaders in congregations and organizations that inspire me and challenge me. My community is my neighbors across the city of Chicago, and organizations we've built relationships with over this last year. My community is my parishioners, those who I've gotten to know in Bible Study, when they drop off lunches for the meals ministry we started after last Easter, and through conversations about Christian discipleship and the problem of racism.
It is complex, and it is messy. Each of these communities that I have named as "my community" has a diversity within them as well. On my good days, I remember I follow a God who is more than binaries and is not limited to them, a God who encompasses multiple categories and does not erase them. Yet some days, it's hard to hold all this together, not to feel like I'm falling short of what I should be doing within each of them, not to feel like I'm trying to go in too many directions or operate on too many levels at once.
The services of Holy Week remind me that I am part of the crowd drawn to and following Jesus. I am not the center, I am not the doer, I am not the fixer. The services of Holy Week remind me that whatever is going on, God needs to be at the center, the Word of God that is Jesus and the word of God that is Scripture need to be at the center. Even if I feel like the last thing I want to do at the moment is to lead a Bible study or write a sermon or be at a service or go to a workshop, wherever and whenever I am looking up at Jesus, looking toward Jesus, God is at work there. God will reveal Godself in these encounters with those physical incarnations of the member of the body of Christ. Even if I can't yet see the way through the darkness yet, if I keep showing up, if I keep looking toward Christ, dissonance can become delight.
The Rev. Peggy Lo is the Associate Rector at St. Chrysostom's Episcopal Church and Day School in Chicago. Prior to ordained ministry, she had a career in organizing and nonprofit administration with The Public Interest Network and in translating Buddhist lectures from Mandarin to English for Buddhist Compassion Relief Tzu Chi Foundation. In her spare time she enjoys exploring the city of Chicago, theorizing about the MCU and other fandoms, and finding the perfect scallion pancake recipe.
Discover more from Peggy Lo
.