Like No Other Place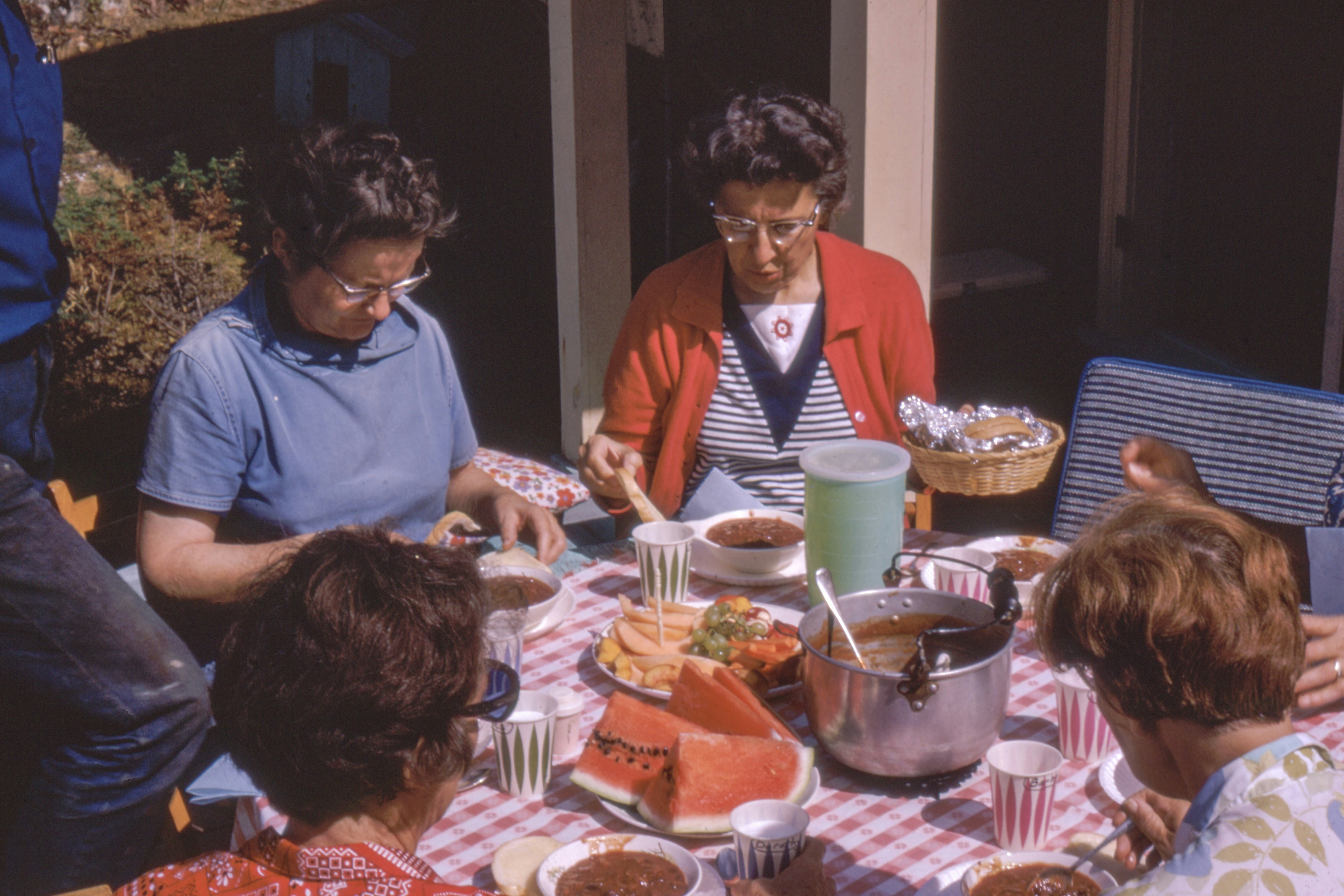 My dad was a career military man. On my third birthday, we were living in Denver, Colorado. When I was four, we moved south, to San Antonio. The year I turned five, we were at Andrews Air Force Base, Maryland. And so it went, moving every year or every other year, for the next twelve years of my life.
But Cleveland was the place we went back to. Like homing pigeons or salmon returning to spawn. Cleveland felt like no other place, not home exactly, but something separate and apart.
My idea about Cleveland was like what I learned in school about the solar system. We were this family, mom, dad, my two sisters and me, five orbs spinning around amongst the stars. Then there was Cleveland, solid and sure, waiting for our spaceship to alight.
My mom and dad were born and raised in Cleveland. My father told stories of playing basketball in high school. One time he made the basket but kept running, stopping only once he'd crashed into the stands. He walked through knee-deep snow to his job at a movie theater, where he ran the projector.
My mother didn't tell stories. All I knew was that she once played the clarinet.
When we went to Cleveland in the summer, it was so hot and damp we practically needed to wring our skin out. We stayed in my father's parents' crowded row house. After dinner the relatives bunched together around the kitchen table, and smoked, drank beer and played pinochle.
Grandma and Grandpa Somlo and the great uncles and aunts were Hungarian. They pronounced the letter W like a V, wore huge sandals with socks and greeted me with slobbering kisses.
In addition to Grandma and Grandpa Somlo's house, we hung around a dark tavern that reeked of stale beer, owned by my Great Aunt Jewel. My parents disappeared into the shadows that gathered over the corner tables like oily crows, while my sisters and I perched atop high stools, sandals banging against the bar.
Aunt Jewel served us tall glasses of Coke with red straws and maraschino cherries. Billiard tables close to the bar were covered in green felt. I sipped Coke, ate salted peanuts and listened to the pool balls click. The guttural sound of men speaking Hungarian filled the air.
My father's mother, Elizabeth, was short and wide, her hair white as a new towel. She piled it atop her head, but wispy strands always escaped, sticking to her forehead and cheeks, damp with sweat from the hot stove she spent hours standing over. Her skin was olive colored and freckled. Amazingly, she had two different-colored eyes, the left blue and the right one brown.
My grandmother hardly ever laughed or smiled. She only did, if she was making fun of someone, usually me. Her lip had a habit of lifting into a sneer, especially when she scolded me.
My mother's parents, William and Lizzie Baldwin, nearly disowned her for marrying my father because his parents were Hungarian. The two sets of grandparents couldn't have been more different.
Grandma Baldwin was rail thin, her pale skin adding to the sense that too much emotion might cause her to break. She was always dressed for a funeral, in high-necked black dresses and matching short-heeled tie shoes. When I walked with her past the brick and porch-fronted row houses to the Pick and Pay, she dragged a wire cart, a flat black hat pinned to her head.
Her house was immaculate, quiet and dark, with polished mahogany and careful needlepoint cushions. Afternoons, she sat up straight in a wing-backed chair in the living room and crocheted, glasses balanced on the bridge of her nose.
Grandma Somlo didn't have time to crochet. She was always in the kitchen, making dumplings for chicken paprikash, stuffing peppers with ground beef or baking cakes with layers of thin dough, sour cream, and nut and fruit fillings. She wore flowered cotton house dresses with bright blue and red piping that wrapped around her waist and tied on one side. Over the house dress she usually had on an apron that was also flowered.
In the afternoon, Grandma Somlo sat in the kitchen and drank a cold beer. Sometimes, she would lean back, knees apart, her feet in chunky white sandals and ankle socks set flat on the floor. Because of the heat, she would hike her dress up, the hem settling above her thick knees.
After a few days at Grandma and Grandpa Somlo's house, we moved to the Baldwins' house. Grandpa Baldwin made orange juice in the morning, but usually came up short. Once he figured this out, he would dump the juice back in the pitcher and add more water. When he was done, he swore me to secrecy, as if instead of water he'd added rat poison.
My grandfather was pudgy and bald. Looking at him made me smile. Even when he wasn't telling a joke, I thought he was funny.
Summer nights, he took me to watch the Cleveland Indians play. Before reaching the ballpark, he would pass me a folded dollar bill. As he did, he warned me, "Don't tell your grandmother."
Grandma Baldwin spent little time in the kitchen. Sundays after church, we ate potatoes, roast lamb, and overcooked green beans at the dining room table. The only frivolous thing was the emerald green mint jelly in a miniature crystal bowl to dab on our lamb.
During every visit, Grandma Baldwin baked one batch of Tollhouse chocolate chip cookies. In the afternoon, Grandpa Baldwin would lift the jar down from the top of the icebox and let me and my sisters pick one cookie apiece.
At the Baldwins, I slept in a dark room on the second floor. The faces of stern men and women looked down from the walls.
My sisters and I fought over who would sleep on the porch. Being the youngest, I often lost. Connected to the dark scary room, the porch had glass walls that could be removed on hot nights. Sleeping on the porch was the closest we ever came to camping.
At night, Grandma and Grandpa Baldwin took their teeth out. I knew it had happened when I smelled the Listerine. After my grandfather left his teeth in a glass in the bathroom, his face collapsed, like my plastic inner tube once I let the air escape.
I adored Grandpa Somlo. A photographer, he had a portrait studio on Detroit Avenue. My sisters and I sat for him in our Sunday dresses. His photographs made us beautiful.
One day my grandfather closed his photography business and moved with my grandmother to Miami. Instead of Cleveland, we drove to Florida. It was hot and humid there, too, but at least we got to swim. Florida smelled like no other place, a damp dirt smell I recognized the minute we arrived.
My grandparents' Florida house was surrounded by mango trees, and their water was heated by the sun. When it rained, my grandparents didn't have hot water. I felt sorry for them and worried. My grandmother scrubbed plastic bags and hung them on the clothesline to dry. She saved tin foil, wax paper, paper bags, and thin strips of lace in a drawer. When she mailed us boxes of mangoes and cookies she'd baked, she included old handkerchiefs and lace.
When I took walks with my grandfather in Miami, he wore a thin-strapped undershirt tucked into short baggy shorts. On his feet he'd have on socks with round-toed brown sandals, like little boys wore. He would point out the trees and flowers, or colors he especially liked. He had a soft kind quality, but also carried a sadness that gathered around his shoulders, I assumed because Grandma Somlo criticized him.
Before I knew it, Grandpa Somlo's heart stopped. After he died, Grandma Somlo sometimes rode the Greyhound Bus to visit us, carrying paper bags filled with pots and pans, huge spoons and knives for cooking and baking.
My grandmothers each wore a thick misery draped over their shoulders, like loose knit shawls. Grandma Baldwin suffered silently. Grandma Somlo's misery sat right out in the open, as she criticized and complained.
Over the years my mother's misery slid toward the land of her mother's, a quiet, dark place where she was always alone. My father's misery was more like his mother's. When he criticized me it felt like someone poking my skin until it bled. He picked on me when he was drunk and exploded in great and terrible tantrums.
It would be many years before I learned what happens to a child who breathes in too much sorrow. One day, I understood that a lingering sorrow slipped off the shoulders of my grandparents, and my mom and dad, and collected in the corners and under the beds. I wouldn't know until much later that tiny pieces of their sorrow lay in wait for me. Over the years, those fine particles of dusty sadness came to choke me, making it hard some days for me to breathe.
Patty Somlo's most recent book, Hairway to Heaven Stories, was published by Cherry Castle Publishing, a Black-owned press committed to literary activism. Hairway was a Finalist in the American Fiction Awards and Best Book Awards. Two of Somlo's previous books, The First to Disappear (Spuyten Duyvil) and Even When Trapped Behind Clouds: A Memoir of Quiet Grace (WiDo Publishing), were Finalists in several book contests. She received Honorable Mention for Fiction in the Women's National Book Association Contest, was a Finalist in the Parks and Points Essay Contest, and had an essay selected as Notable for Best American Essays.
Discover more from Patty Somlo
.