Collective Remembrance and the Communion of Saints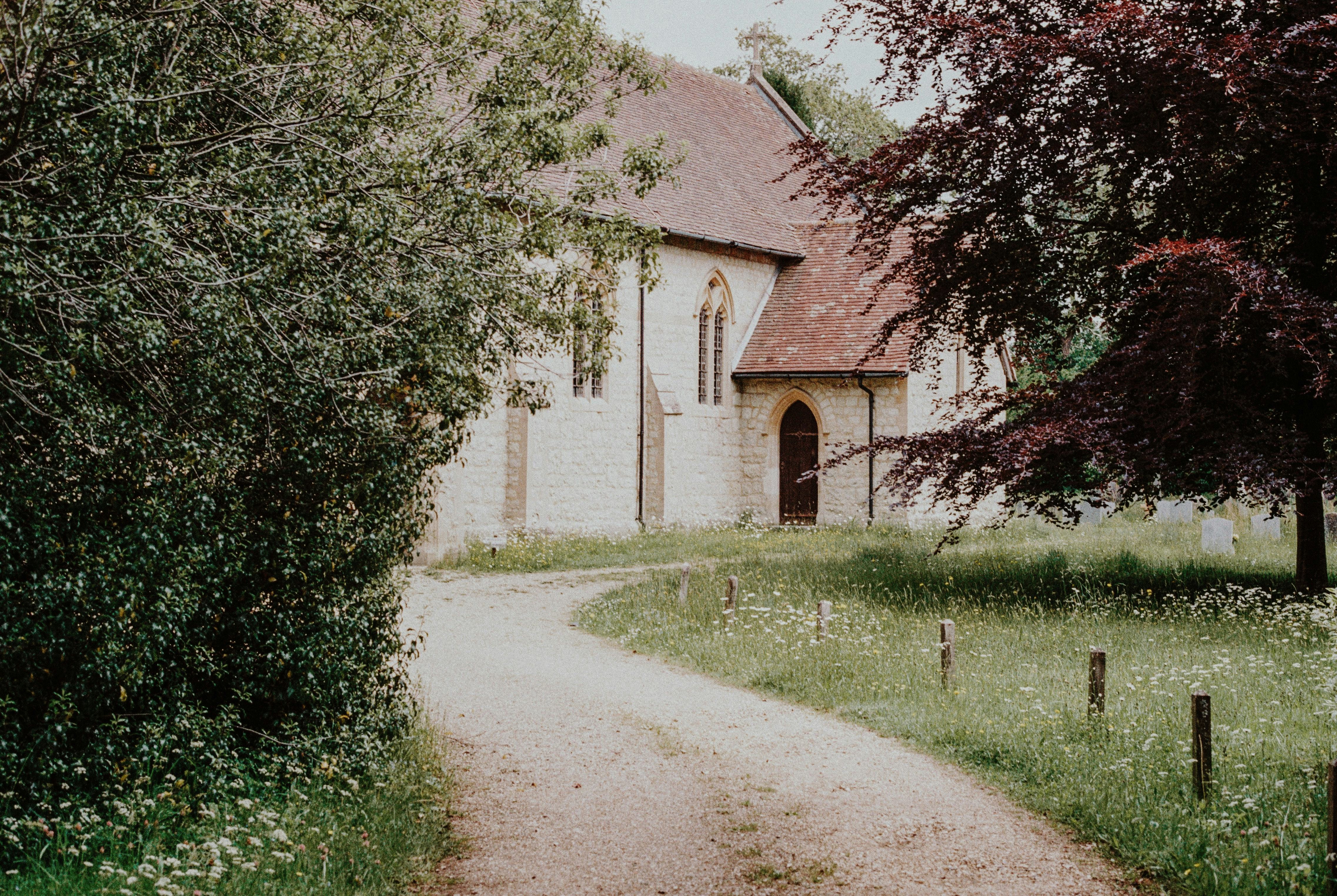 This essay has an associated podcast episode. Listen now.
For many Christians, myself included, the Covid-19 pandemic has substantially interrupted the practice of our faith. Because of coronavirus restrictions, I have not been able to attend Mass in person since March. Though I appreciate the considerable efforts of parishes to offer virtual liturgies, tuning into Mass from my kitchen table while I eat a bowl of cereal just isn't the same. Where are the creaky pews? The people whose names I mostly don't know but whose faces I would see each week and whose hands I would shake during the sign of peace? The dry communion wafer that I would try to hold on my tongue as a kid to see if I could make it last through the rest of Mass? Beyond the sights and sounds of what helps a space to feel sacred, I miss the silence. Before, during, and after the liturgy, silence abounds: arriving to Mass early and waiting for it to start, I sit in silence. Returning to my pew after the Eucharist, waiting for everyone else to get Communion, what else is there to do but pray? All I had to do was show up, and the rhythm of the liturgy would usher me into a space of waiting, of listening, of noticing. That kind of space is immensely challenging for me to establish at home. Though home can be a refuge, it doesn't always feel like sacred space. Looking around my room I am reminded of my to-do list: laundry, vacuuming, clearing some space on that bookshelf. Someone is mowing the lawn outside; the construction workers at the house next door are blasting the Rolling Stones.
This dissonance between my home environment and the rhythm of the liturgy can make digital worship feel chaotic and isolating. Though I know others are tuning in to virtual Mass, the togetherness that accompanies a physical gathering of the faithful is difficult to sense in a virtual space. This togetherness I miss is not just the joy and fellow-feeling that comes from being gathered with other people (though I miss that too). Gathering for worship involves an element of holiness, when a pilgrim people with a common destination travel together along the way. Catholic feminist theologian Elizabeth Johnson calls this character of "togetherness" the "communion of saints." While saints may conjure for us those canonized by the institutional Church––historical figures whose strange stories we have encountered piecemeal over the years––Johnson aims to recover a broader definition of "communion of saints," to refer to "an intergenerational company of persons profoundly touched by the sacred, sharing in the cosmic community of life which is also sacred." This bond is not limited by geography or time: it connects the living with the dead and the not-yet-born, those nearby with those far away. Setting our sights on holiness beyond those who are canonized also helps counter the exclusion and subordination of women and marginalized peoples from institutionally Christian spaces, which is evident in the Church's tradition of canonization: only a quarter of the saints canonized by Rome in the 20th century are women, and less than a quarter of recognized saints are lay (i.e., not clergy or vowed religious).
Johnson sees the community of saints present in the liturgy and the places we might call "sacred," but she emphasizes that the holy companionship of the saints, of fellow seekers of the divine in a suffering world, is found in our ordinary lives and in "secular" spaces as well. In the time of coronavirus, I am holding onto this insight as a lifeline: holiness can be found in the ordinary. Separated physically from places of worship and the people of God, the spirit-infused communion of saints encourages us to seek holiness in the quotidian, to lift up ways of worship constructed out of necessity, to remember that encounters with the divine are not limited to buildings with a cross on the wall and incense in the air.
In the absence of in-person liturgy, I return to the prayers I learned in childhood, surfacing layers of memories formed over two decades of repetition. Reciting the Hail Mary, I am reminded of my grandmother at home in California, quietly praying the same words after a visitor from her church stopped by with communion. Saying the Our Father, I hear the words in the voices of students from the Christian journal club I helped lead in college. Sometimes, when my family remembers to say grace before dinner, we use the Moravian blessing, a standby of my Grannie's, a prayer she had us memorize as kids and recite before dinner at her house. Reciting these familiar words, I smile as I hear her Southern accent begin, "Come Lord Jesus, our guest to be…" Even now, before I go to bed, I often find myself automatically saying in my head, "Now I lay me down to sleep," the prayer my mom taught us to say at bedtime when my sisters and I were little. Reciting familiar prayers seems to collapse time and space, connecting me to faraway people and places, reminding me of those ordinary saints who nurture my faith.
When I feel overwhelmed by the darkness of political polarization, of climate change and natural disaster, of global inequalities and the exploitation of the poor, I recall the words sung by a mentor from my parish growing up: "There is a light that will overcome the darkness; there is no darkness that can overcome the light." Though he has since passed away, his positive spirit, preserved in memory, makes me more hopeful than I could be on my own. Tapping into this wellspring of encouragement of the faithful, past and present, can restore the sense of belonging that feels out of reach in quarantine. This recovery of connection is not limited to the people of faith we encounter personally. In the communion of saints, we glimpse the vision of the Kingdom of God expressed in Jesus' ministry in the Gospels. From fishermen to tax collectors, from poor to rich, Jesus extends his outreach to all. Jesus radically upends our understanding of kinship: concern for the other is predicated not on family, tribe, or ethnicity, but on our shared humanity. No one escapes his care and concern.
The communion of saints preserves this universal relationality. It invites us to see ourselves in the broad expanse of human history, so that we recognize common threads of experience that unite us to people who otherwise seem worlds away. Memory is not a sentimental nostalgia in this paradigm; rather, the practice of remembering helps us to see both the triumphs and challenges of our time as part of the groaning of all of creation as we struggle to find God in a suffering world. Just as Jesus sought out the nameless woman with the hemorrhage in the crowd to praise her faith and restore her belonging in the community, we must seek out "the lost heritage of women's tough and joyful lives in relation to the mystery of God," to approach history "from the margins rather than the center of power," to see the nameless behind those whose names we know.
In our contemporary context, we can see memory from the margins operating in the Black Lives Matter movement, in which remembrances of the names of Black lives lost to police brutality––Breonna Taylor, George Floyd, Michael Brown, Freddie Gray, Sandra Bland––energize protests across the country. As womanist theologian M. Shawn Copeland has noted, the remembering of Black Lives Matter, the reassertion of the dignity of Black people, offers a corrective to the conspiracy of American amnesia, in which the atrocities committed under our flag are resigned to history. Christians, too, must "pledge to remember." In the foundational paradigm of the Christian faith, Christians recall Jesus' passion, death, and resurrection, in which Christ's crucifixion becomes the occasion for our redemption, for a new way of relating to one another. Our relatedness to all people and all of creation compels us as Christians, says Copeland, "to act and live in history in imitation of the gracious and healing presence of Jesus of Nazareth, who loved human beings and loved being human to the end and loves still."
Collective remembering emerges in the stories we hear and tell, in the parts of history we privilege. A friend recently shared with me an album she thought I would like: The Highwomen. A group formed of four female country singers (Brandi Carlile, Natalie Hemby, Amanda Shires, and Maren Morris) who took inspiration from the Highwaymen (a country music "supergroup" from the 1980s), the Highwomen offered their own take on the eponymous "Highwaymen" song (refashioned "Highwomen"), giving voice to women whose stories remain "still untold." They recall a woman healer accused of witchcraft and hanged, a migrant mother dying as her family escapes violence in Honduras, a freedom rider protesting segregation in the American South in the 1960s, a preacher killed for defying expectations regarding women's roles in the church. Each woman echoes the story of a woman's abuse and murder, insisting in the refrain, "but I am still around." Through collective remembrance, the song resurrects the forgotten histories of women's resistance, drawing new life from stories of defeat. As Johnson explains, "memory that dares to connect with the pain, the beauty, the defeat, the victory of love and freedom, and the unfinished agenda of those who went before acts like an incalculable visitation from the past that energizes persons. It interrupts the omnipotence of the present moment with the dream, however fleeting, that something else might indeed be possible."
The Highwomen have another song, "Crowded Table," that expresses well (unintentionally, perhaps) the vision of belonging that the communion of saints strives for, which we hope for in Christ's kingdom: "I want a house with a crowded table, and a place by the fire for everyone…everyone's a little broken, and everyone belongs." The "source and summit" of our liturgy is the celebration of the Eucharist, recalling Jesus' breaking of bread with his friends. In a sermon to El Salvadoran peasants, Rutilio Grande, an El Salvadoran priest martyred in 1977 for standing in solidarity with the poor in El Salvador envisions eternal life with this same imagery: "We see a common table, with a broad table-cloth, set for everyone, as at this Eucharist. A chair for everyone. No one left out. Napkins and place settings for everyone." In a time when the idea of a crowded table sets off alarm bells as a potential super-spreader event, I find solace and energy in this expansive communion of saints, in the people of goodwill, past and present, who persist in hope to resist suffering and apathy, to insist on working toward a future of justice and belonging.
Elizabeth Johnson,Friends of God and Prophets (New York: Continuum, 1999), 2.
Johnson,Friends of God and Prophets, 163.
https://politicaltheology.com/memory-blacklivesmatter-and-theologians-m-shawn-copeland/
Johnson,Friends of God and Prophets, 165.
Quoted in Johnson,Friends of God and Prophets, 216.
A practicing Catholic from Baltimore, Emma McDonald is a second year doctoral student in Theological Ethics at Boston College, where she studies bioethics and social ethics, focusing specifically on reproductive ethics. She received an M.A. in Religion from Yale Divinity School in 2019, and a B.A. in Religion from Middlebury College in 2016.
Discover more from Emma McDonald
.