When Everything Was Everything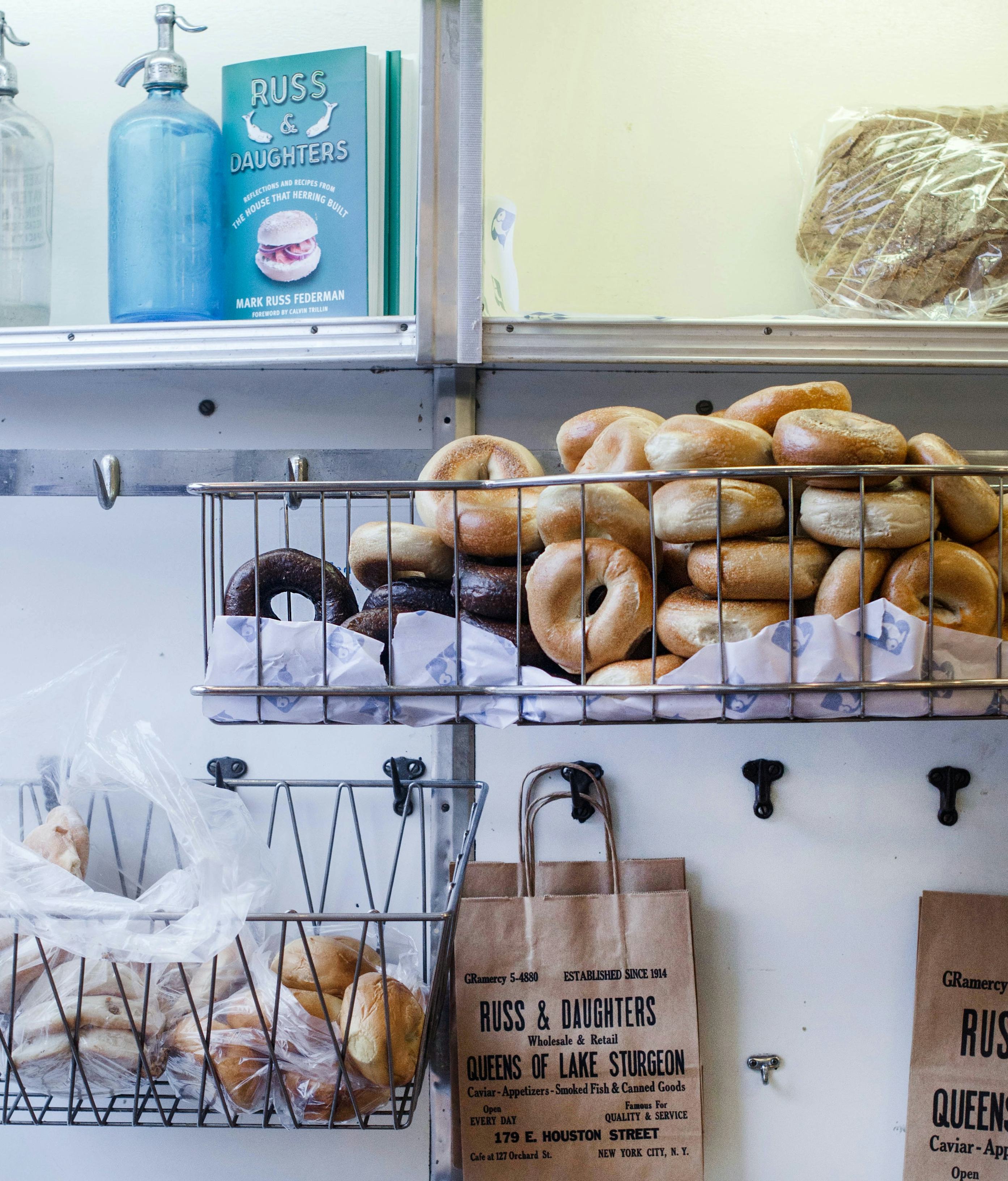 Years before I went to restaurants with dishes like "scallop mousse" and "seaweed gremolata" on the menu, I was a Jersey girl who loved bagels.
In the 1990s, my high school cross country team gathered before meets at "Bagels-4-U" on Main Street, a culinary destination in our three-mile wide town. The shop's logo was an illustration of three bagel characters in novelty socks, sneakers and poofy white baker's hats. Piled into wire baskets behind the counter, the bagels wore a satiny gold sheen like a beach tan. There were classics like sesame seed and pumpernickel, and a rotating cast of exotic flavors, like sun dried tomato, raspberry, and peanut butter. Early on a Saturday morning, we often got them warm, piled into a brown paper bag. Fresh bagels didn't need to be cut in half and toasted; they could simply be pulled apart into chewy tufts. Everything bagels were my favorite, despite the inevitable onion breath and poppy seeds lodged between my teeth.
I considered bagels quintessentially American until I learned that they are in fact an immigrant food with their own complex history. As Maria Balinska describes in her book, The Bagel: The Surprising History of a Modern Bread, there is evidence of similar ring-shaped breads from Italy to China to ancient Egypt. A distant cousin of the German pretzel, today's bagel has its roots in 17th century Poland, where they were threaded through a stick or string and sold as street food. Bagels arrived in New York City with Eastern European Jewish immigrants, and by the 1900s, there were enough bakeries in the Lower East side to form a powerful union, the Beigel Bakers Local 338. The hunger for home was potent in the diaspora, and the union bakers were committed to preserving the time-consuming, labor-intensive methods of preparation.
Bagel culture spread across the country with the migration of the Jewish community, making way for bakeries like the one I used to frequent in New Jersey. But they didn't go mainstream until the 1970s, with the success of Lender's Bagels, now a staple in the frozen food aisle. Harry Lender, a Jewish immigrant baker from Poland, settled in New Haven, Connecticut, and began freezing and distributing bagels to the Catskills and beyond. His sons, Murray and Marvin, took over the business after his death, and with a combination of mechanization and marketing, the Lender family pushed the bagel out of the "ethnic" section and made it a mainstay of the American breakfast.
In a video from New York University, professor Jacob Remes claimed, "...no one has had a New York bagel since 1967." With the dissolution of the Beigel Bakers Local 338 union, traditional methods were no longer the standard, which forever altered the taste, texture and flavor of this now ubiquitous bread.
The union was no longer, but the five boroughs of New York City were still home to many iconic bagel shops. A video produced by Eater shared the story of Utopia Bagels in Queens, New York, a forty-year old business that made 70,000 bagels per week on average. Behind the counter, hundred-pound bags of flour went into a cavernous drum, as a large, medieval-looking hook churned the ingredients. Bakers wrangled boulder-sized masses of dough, covering them with plastic for the first proofing. Hours later, they cut off thick slabs, then twisted evenly-sized ropes around their palms, their hands moving in a quick and certain rhythm to roll hundreds of perfect rings. The raw bagels, stacked in trays in floor-to-ceiling carts, proofed for a second time in a walk-in refrigerator for at least twenty-four hours, after which they were boiled in a vat, and baked in a hot slate oven. The multi-step process was impressive, and any misstep - under proofing, over boiling - yielded a less than ideal bagel.
As a carb-conscious middle-aged woman, bagels were no longer in my morning rotation. I enjoyed the flavor once removed, through the trend of everything seasoning bottled at Trader Joes, stirred into nut butters, and laminated onto croissants and crackers. But in the spirit of journalistic inquiry, I decided to make bagels in my kitchen in Harlem. My flour-dusted countertop was like a Ouiji board on which I channeled the Jewish bakers of the Lower East Side.
Referencing a New York Times Cooking tutorial by writer and chef, Claire Saffitz, I began making the dough at 9pm on a Saturday night, gathering bread flour, water, salt, active dry yeast, and molasses. The traditional sweetener was barley malt, but Claire advised that molasses could be substituted "in a pinch." New York City's tap water, low in calcium and magnesium, made it ideal for this purpose. Kneading took twenty minutes, proofing took two hours, and it was midnight when I began rolling bagels. At one o'clock in the morning, I reorganized the fridge to make space for my hopeful dozen, which would proof for the second time in what was left of the night.
On Sunday morning, the bagels-to-be were pale and bloated. I was full of misgivings as I completed the final steps of the process. Had I kneaded the dough enough? Would the molasses make the bagels taste weird? What if they came out like hockey pucks? I forged ahead, immersing the bagels one at a time in a pot of boiling water, molasses and baking powder, then coating them in everything seasoning.
While the bagels were baking, I remembered the words of Scott Spellman, co-owner of Utopia Bagels and passionate star of the Eater video. He advised that bagels are done, "When they're ready…it's a look, it's a touch, it's a smell." Intuition seemed like a tricky business model, but it was working for them, so I followed suit and used my senses instead of a timer.
Out of the oven, they were bigger and flatter than I expected. But there was no turning back now. I laid out my caramel-colored, seed-studded creations on a butcher block, and handed them out to my family - a group of hungry non-Jews who "schmeared" them with cream cheese and declared the experiment a success. I felt a wave of relief after my first bite. The flavor was just salty enough, and the contrast of textures - the crusty outer shell and soft bread within - was surprisingly on point. I'd forgotten how delicious, comforting, and soulful a fresh bagel could be.
If I was being finicky, I would admit that my bagels could have been chewier, taller, and rounder, the exterior more textured. But the whole endeavor had given me so much more than Sunday morning brunch. I'd grown up on bagels, but never appreciated their journey to the city I called home. Over the years, their popularity had distanced and diluted their origin story, but like so many immigrant foods, they were an emblem of survival. Low-carb diets had made bread, the most elemental of human creations, into enemy number one; we were losing more than just calories in that trade-off. In my post-brunch bliss, I felt reconnected to my teenage self, and renewed admiration for the humble bagel.
When my six-year-old son asked me if I could make them every weekend, I almost laughed. As a working mother, I was not prepared to add "night-shift bagel-baker" to my endless job description. But I didn't want to snuff out his enthusiasm.
"Only if you're going to help," I told him. He agreed, his grin dotted with poppy seeds.
Sumitra Mattai is a freelance writer and textile designer. She holds a BFA in textile design from the Rhode Island School of Design and an MFA in Creative Writing from The New School. Sumitra enjoys writing essays about identity, food, design and family. She lives in Harlem, New York City. Follow Sumitra on Instagram, @sumitramattai, and visit her website.
Discover more from Sumitra Mattai
.