On Embodied Liberation: An Interview with Leadership Coach and Founder of Embodied Black Girl, Thérèse Cator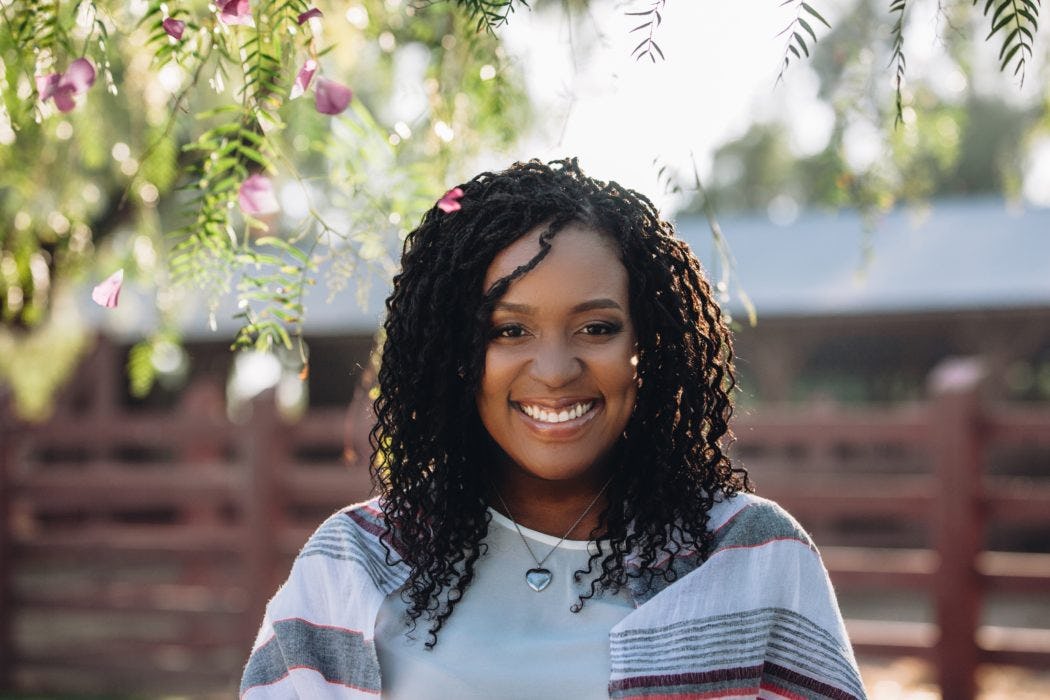 Thérèse Cator is a mother, leadership coach, embodiment practitioner, storyteller and founder of Embodied Black Girl, a collective dedicated to the "embodied liberation," flourishing, mental health, and wellness of Black women.
Thérèse's work stands at the intersection of spirituality and activism and is founded on decolonial thought, somatic healing, and trauma-informed care. She writes, "I am devoted to guiding visionary people of all backgrounds to remember their wholeness, reclaim their radiance, and untether from white supremacist colonial patriarchal conditioning in life and leadership in the name of healing and liberation for us all." This September, Thérèse is hosting a free workshop, "Get Free: How to Break the Cycle of Intergenerational Pain and Reclaim Healing and Joy as a Birthright." All are welcome to attend.
In our time together, Thérèse and I discuss her definition of "embodied liberation," the relationship between healing and wholeness, and her vision for a world transformed by decolonial leadership and equal access to wellness. Thérèse's deep wisdom is palpable and overflowing. It is a privilege to share her work and insight here with you.
What was the landscape of your childhood, and how did this context prepare you for the work you're doing now?
I grew up in New York City. My parents are originally from Ayiti. That's the indigenous name for Haiti. Growing up with my mom in the city, I experienced two different worlds: the world of growing up in an urban landscape while also learning that this same world, filled with skyscrapers and billboards, held medicine. Both of my parents grew up in the country and are medicine people. I remember going on walks around the city and my mom would teach me about trees and plants.
My mom was also heavily involved in organizing and activism. On most weekends, we'd go to different protests, stuff envelopes, and volunteer. I got to witness that the spiritual and the political are not separate. At protests, we'd gather together in a circle, hold hands, and say a prayer. This shaped me.
Having a community upbringing also shaped me. At any given time, there were at least ten folks living in our home. Being embedded within community, I learned about conflict resolution.
The last thing I would say shaped me was growing up alongside people with different abilities. For example, one of my aunts who I grew up with is blind. I have other relatives who are neurodiverse. I became keenly aware of the intersections of power and privilege as it relates to ability, age, class, and race because it impacted my family's life, including what was available and not available to us.
How did theatre teach you about storytelling? Are these lessons you incorporate into your work today?
I didn't realize this at the time, but studying theatre laid the foundation to the embodiment work I do today. In order to do that work, you have to show up fully present. All the different practices – from movement work to archetypal work – inform my work.
One of the most powerful things I learned was that stories create bridges. Stories can change minds and hearts. I saw how people coming into a theatre space were emotionally moved by learning about another person's world. Storytelling humanizes. It humanizes all of us, but especially folks who hold marginalized identities and have been dehumanized historically.
Storytelling also functions as a bridge to activism. Nina Simone said, "An artist's duty is to reflect the times." I truly believe that's what artists are here to do. Of course, the Hollywood machine distorts this, but, at its core, story is really feeling and healing.
"Embodied liberation" is an anchor of your work. What does this concept mean to you?
Embodied liberation means, "In spite of, or despite, systems of dominance and systems of oppression, how can I feel free, and how can the folks I support feel free in their bodies?"
Living in this system is like having blinders on; if you ever watch horse racing it's a similar concept. This is how systems of dominance and oppression make us unable to see the full picture. Embodied liberation, on the other hand, removes those blinders, and that happens through becoming familiar with the landscape of our bodies. It's reshaping ourselves beyond what's been given to us, so we can feel free in our bodies. Embodied liberation activates us, so we can take steps to create liberatory policies, laws, and change.
What do you wish the general public better understood about embodied liberation?
I would hope they understood that we live in a society in which we've become accustomed to being disembodied. Since everything has been opening up more, in this phase of the pandemic in the United States, there has been an increase in violence. The violence and shootings we're witnessing are symptoms of being disconnected from ourselves and one another. How can you commit hateful acts of violence without being deeply disconnected from your body? You can't.
Powerlessness exists there. And the sense of being powerless is connected to disembodiment. If we're not embodied, it is easy to feel powerless in the midst of all that's going on. Embodied liberation is about reclaiming the true innate power that resides within ourselves. We all have our individual work to do depending on our access to power and privilege. So what embodied liberation means for me as a Black woman will differ from how it looks for a white person.
My vision is a world where we are all able to live in dignity, where everyone can live in dignity, no matter where you are, no matter what your ability is. Embodied liberation is about doing the work to make that happen.
I wonder if you might share more about your early vision for Embodied Black Girl and your coaching work?
My vision for Embodied Black Girl is to make wellness accessible, to make healing accessible to as many Black women, femmes and gender non-conforming people as possible. Through accessibility, we're able to make lasting change.
My work is about connecting the dots. When we recognize the ways we've been shaped by our culture, by our families of origin and layer on neurobiological understanding of how fight, flight, and freeze impacts us and our bodies and how to disrupt those patterns. Our ways of being or being in states of fight, flight, or freeze isn't necessarily bad; these responses are meant to protect us. However, when we're in chronic fight, flight, freeze, when these states become our default it's no longer empowering us but keeping us in looping patterns. For Black, Indigenous, People of Color, it can become chronic and create long-term illness because you have so much cortisol and adrenaline running through your body.
I want to change this narrative.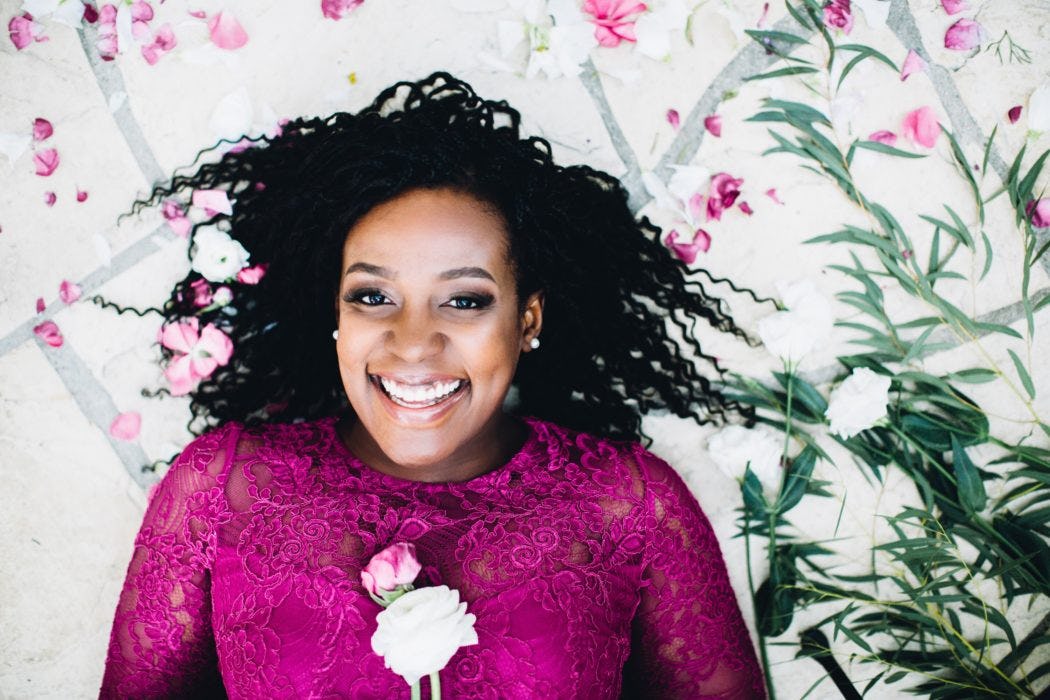 What do you love most about being a coach for Black women and the wider community?
I love when my clients share with me, "I feel safe in my body. I've never, in my entire life, felt safe in my body, and now I'm able to take intimacy risks with others."
We've lost what it means to be relational, we've lost community, and together we can remember. Through remembrance, we change how we relate with ourselves, the earth and one another, and that changes not only our lives but also our communities.
How do you make space for your own healing and liberation? Are there practices you rely on to restore yourself as you hold space for others' stories?
I always tell my clients that this is a life-long practice. I say to my clients, "I don't see our relationship as a hierarchy. I see us sitting in a circle together. We're bringing wisdom forward together in this space."
So the practices I teach are also what I personally do. So meditation, breathwork, reclamation, decolonization, personal reflection, being in community are things I'm constantly practicing.
This vision of sitting in a circle with your clients. Is this how you would describe "decolonial leadership?"
Yes, not having hierarchies, while recognizing elder wisdom, is part of that vision. Everyone brings their wisdom. The little ones bring their wisdom. The plants bring their wisdom. It is important to acknowledge that, even within non-hierarchy, everyone brings their unique wisdom forward.
Decolonial Leadership is relational, reverent and regenerative. It's untethering from ways of being that kill us and kill our earth. It's about leading in an embodied way, leading from our wholeness and leading in a way which honors everyone's dignity and contributions. Decolonial Leadership is not about going back or recreating the myth of the past. There were problems in the past so I personally don't want to swap one illusion for another. We can't go back. What we can do is carry the wisdom of our ancestors and elders forward, while dreaming and weaving new realities into existence.
What does wholeness mean to you? How do you think about the relationship between healing and wholeness?
Wholeness is something I'm always exploring. Wholeness to me right now means being able to be present with all my different parts: the shadows, the parts I like, and getting curious, getting playful. Embracing our wholeness is healing. We've been taught in so many ways which parts of ourselves are acceptable and respectable and a lot of that is rooted in the binary. The binary tells us we can be this or that. But wholeness is recognizing there are shades of grey. It's recognizing there's wisdom in all of these areas and embracing the totality of who we are.
Where do you see your work moving next, especially in this period of moving out of the pandemic as we reckon with deepened inequality?
I want to activate healers to go into their communities and do this work and make wellness, make healing, make mental health resources accessible to as many people as possible. That's really what's been coming forward. My word for 2021 is "legacy," so I've been thinking, "Okay, if I'm not here, how does this work continue? And I want this to continue." Passing on the medicine and teaching is the way this work can go on.
This interview has been edited for length and clarity.
*
Follow Thérèse on Instagram, Twitter, and Facebook. And Embodied Black Girl on Instagram and Facebook.
Listen to the Embodied Black Girl Podcast.
Sign up for Get Free.
Learn more about Embodied Black Girl and Thérèse's work.
Sarah James is the editor-in-chief and founder of Clerestory Magazine. A graduate of Yale and Middlebury, Sarah is a biracial South Indian-American woman of color and a writer. You can find her work elsewhere in The Porch, Darling, and Relevant, among others, or on her website.
Discover more from Sarah James
.