Storytelling and Soul Expression with Zainab Zeb Khan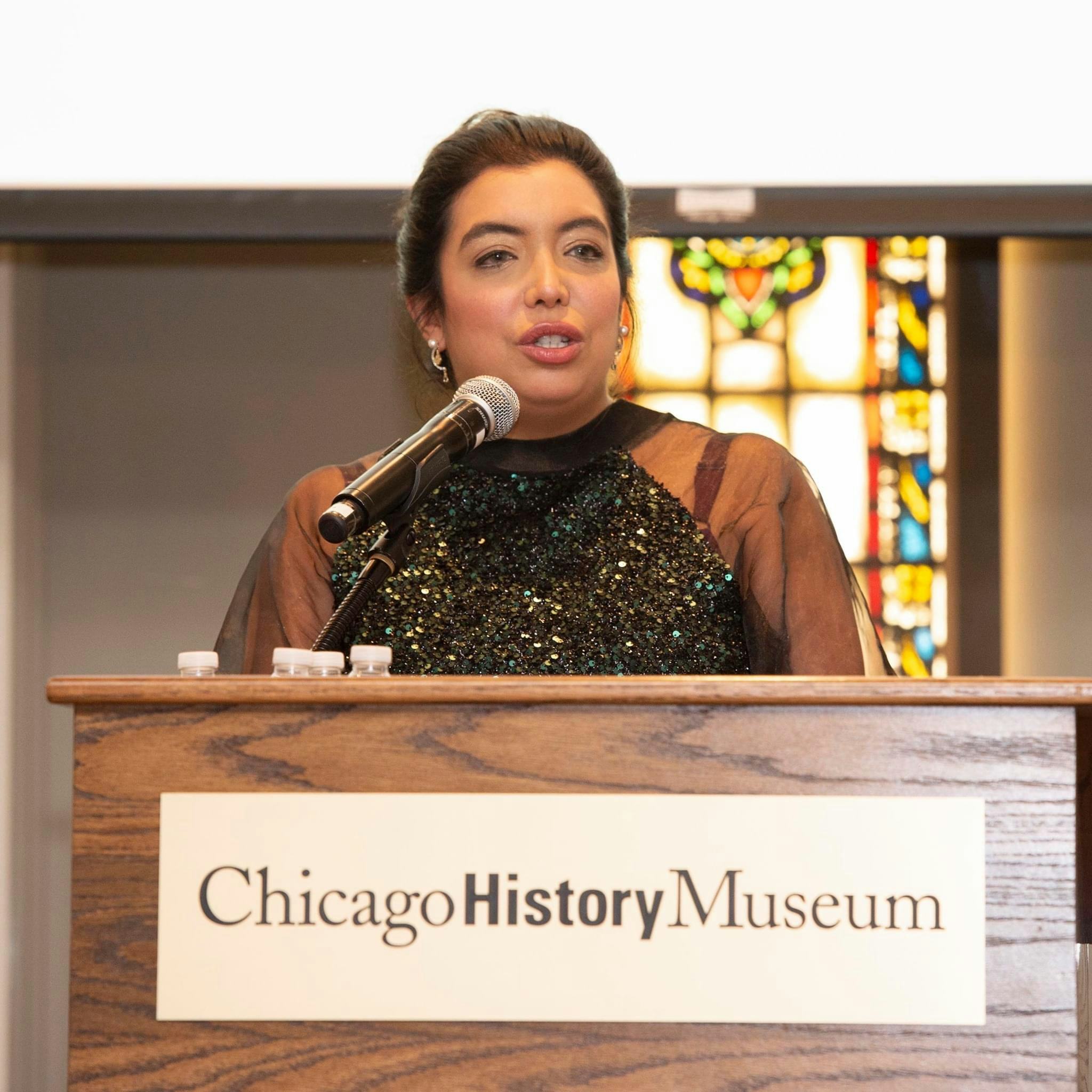 Zainab Zeb Khan is human rights advocate, therapist, storyteller, curator, and artist. A clinical psychologist and a talented painter, Zainab brings a unique and humane combination of skills and expertise to her work as a changemaker.
She identifies as a Muslim-American woman and daughter of immigrants The co-founder of the Muslim American Leadership Alliance (MALA), Zainab has collaborated on projects with the United Nations, StoryCorps, and the International Museum of Women, and has received awards from UNICEF, Fortune Magazine, Safe Magazine, YWCA Metropolitan Chicago, and Aga Khan University. Most recently, she received a Silver Stevie Award for Female Executive of the Year in a Government or Non-Profit.
Zainab and I spoke over Zoom in September. The cultural reckoning around racism in America, the unfolding and approaching presidential election, the ongoing pandemic and its effects on gender-based violence wove the background to our conversation. In the hour we spent together, we discussed positionality, art's capacity to tell "three sides to a story," the intersection of storytelling and human rights, and more.
What was the cultural landscape of your childhood?
It's wonderful question that you ask because I've actually been grappling with memories and nostalgia lately. I grew up in Schaumburg, Illinois in the 1980s. My parents were both immigrants. My father was from Afghanistan, and my mother was Indo-Pakistani. They met in Chicago and married. I have two sisters, one older, one younger. I'm the definition of the middle child or "middle child syndrome," as they say.
Growing up was, I think with everybody there's your ups, there's your downs, there's wanting to fit in, wanting to be a part of something. There I was, navigating through school with a name like "Zainab," a name people couldn't pronounce. Growing up, I didn't see a lot of people who looked like me on television or really represented me.
I was very, very close to my father and to my mother. My dad passed away in 2014. I guess I was prepared for it, but then, in a way, you are never prepared to lose a parent. It's as though part of your soul leaves. I had a very, very special relationship with my father as well as my mother.
My mother passed away, at a relatively young age, in February of 2019. It was unexpected. My mother committed suicide. For the first six months, it didn't register. I didn't know what to say, what to do. I've been in intensive therapy, intensive, intensive grief therapy and counseling, which has helped me even be able to talk about this. To even say the word suicide is a milestone for me in itself. I think that it's imperative especially amongst minority cultures, immigrant cultures that we discuss mental health and the stigma associated with it.
My background is clinical psychology so it was like how could this happen to me? My husband is a neurologist. I felt, how did something like this happen in our family? Mental illness does not discriminate. We still have a long way to go as a society.
What was the religious background of your childhood?
Now looking back on my childhood, I'm very grateful that both of my parents were extremely open-minded. They never imposed religion or their cultural values on us. My dad wanted us to be as American as possible. Anything we wanted to do, we would get to do. We grew up in a very humble background, but he just wanted to make sure we had the opportunities that he didn't get to have.
My mother as well. My mother was very open-minded. My older sister is married to a Catholic. My younger sister is married to a Hindu. These things were never an issue within us. We could love whoever we wanted. We could be whoever we wanted.
I grew up in a Muslim household. My father leaned more on the spiritual aspects of Buddhist philosophy. My mother was very observant. She prayed five times a day. She fasted. She would observe all the holidays, the traditions, aid the customs and all of that.
The interesting thing, though, is that they never really pushed us to do the prayers or to do the readings of the Quran. Out of my three sisters, I'm the only one who knows how to read and write Arabic. I read the Quran because every day after school. I learned how to read it, and I practiced it. I'm grateful that I did.
How do you define your faith now?
Today, I'm a deeply spiritual person. I believe in humanity. I believe in the universe. I believe in cosmic energy. I believe that people are interconnected. I really wouldn't say that I have singular view on life or religion. We all bleed the same. Like I said, I was very fortunate that my parents were not rigorous or dogmatic in the sense that we have to marry Muslims.
I have friends that are like, "We can't even marry outside of our sect" or, "I'm dating somebody that's out of my culture, how do I even do this?" I've seen it amongst so many women and men within my social sphere. For me, I'm raising my son knowing his Muslim heritage and giving him the freedom of whoever and whatever he wants to believe in.
Whether it be secular, whether it be about science. That's his choice. My job is only to show and present options, and the choice is his.
You are a very talented artist. When did you first discover art to be a life-giving source for you?
For me a very powerful way of experiencing spirituality happens through art. When I was seven years old, I was obsessed with Greek mythology. I would visit the Schaumburg Library three times a week. Instead of going to the children's section, I'd go upstairs and pull out heavy books – as big as my small body could handle – of paintings. Coffee table books of paintings. I would scroll through them, totally absorbed.
The first painting I ever made was when I was 14 years old. I had some pieces in some art classes, but I didn't study art in college. In 2010 or 2011, I started picking up art again. At that time, the only museum I'd ever visited was the Art Institute of Chicago, which I loved. I'd roam the hallways and study the way every painting was done.
Contemporary art is great, but I think a real artist is one that's very fluid and well sourced in every different techniques and media. I started experimenting with oils and drawing. I was very focused on the human face because if you have that nailed down, you can basically do anything. I was experimenting. I was influenced by a range of different artists, like Dali or Magritte. Recently, I've been rereading a lot about Magritte's life and revisiting some of his paintings. His mother committed suicide and so did, so I've been looking back at his work.
Since I had my son, I haven't really painted, but I recently started framing all of my other pieces and putting them up. I've been very lucky and fortunate to have traveled the world and the first place I always go to is the art museums and so I've seen some of the most incredible pieces in Spain and France and Italy. I'm so fortunate. In Vienna, in Hungary. I am just very grateful that within this chunk of time I've been able to soak those experiences in.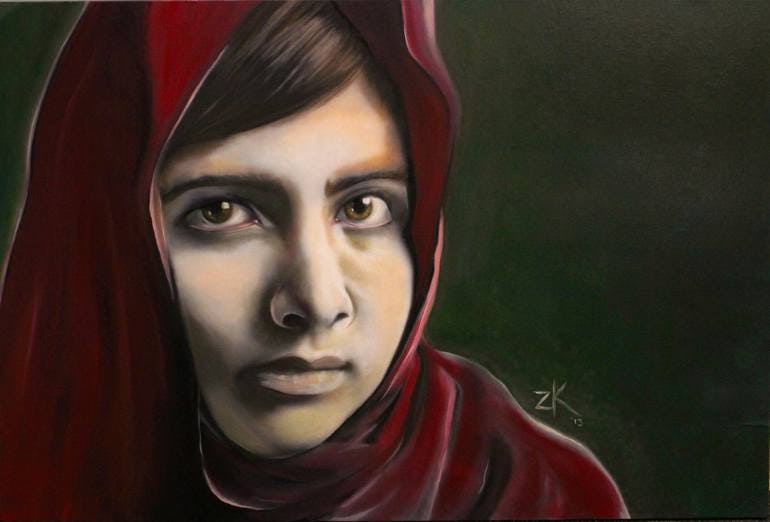 "Mademoiselle Malala," by Zainab Zeb Khan
In your TED Talk, you describe art as "an elemental part of being human, the right to give expression to the soul." I wonder if you might share more about the connection between art and free expression, soul expression?
In 2013, I was one of the curators for a virtual art exhibition for the International Museum of Women, showcasing the work of Muslim women across the world. I didn't have my artist hat on at that time. I was putting a curator's hat on, and those are two very, very different roles. Having that curatorial sensibility made me realize that there are so many parts of the world where women express social political issues in their communities. Creating sculpture and theater and dance were their ways of speaking.
Art has the ability to show three sides to a story: yours, mine, and what really happened. One of the questions people often ask artists is, "What did you mean by this when you painted this?" It's like, "okay, do you have a lifetime to sit down and talk?" Art is a platform for bridge building, for peace building, to show one another what we are going through as human beings.
I think that that's really important, especially now in today's world with COVID-19, so many racial injustices, social injustices, and politics which are polarizing. We have to remember that we are human. I bet if all the art museums were open, people would be a lot calmer. Art is a reminder and a powerful expression of history. If you look at each segment of art historically, you see how it represents social and political movements. You glimpse what was going on in the past.
How does your educational background in clinical psychology and your experience as a therapist shape the work you do today?
I finished my bachelor's in psychology and neuroscience from Loyola University Chicago. I was very, very strong in social psychology and abnormal psychology, and I was awful at the math and the neurology part, which is so interesting because I'm married to a neurologist now.
I received my master's in clinical psychology from Roosevelt University in Chicago. I did my practicum with a local women's shelter which served a lot of South Asian and Middle Eastern women and survivors of domestic violence.
My first real job was doing neuro psych testing for pediatrics at the University of Illinois Chicago Hospital. When you're doing neuro-testing, everything is standardized. You can't really interact with somebody. You can't learn their story. Otherwise, it would mess with test results. I realized that that wasn't for me. I worked at Alexian Brothers Behavioral Health Hospital, which is one of the largest hospitals in the Midwest. I'm so proud to have worked there too. I was the senior clinician for high-functioning adults. From there, I entered private practice.
I am planning on taking my board exams for the state of New York. I do a lot of volunteerism, and I actually take my son along with me, as safely as we can with COVID. I'm very passionate about advocating for women's healthcare, especially for immigrant women who are not able to speak English. We have a very high population of women that are from El Salvador here in the eastern part of New York. I would like to take a more structured approach to breaking the cycle of intergenerational poverty. As a child of immigrants, I know that it can be very challenging.
A great deal of your work has centered around storytelling and elevating the stories of women through StoryCorps, MALA, and other initiatives. Why, in your view, is storytelling integral to human rights work?
Issues that are being tackled now such as child marriage or human trafficking comes out of sharing survivor stories and amplifying survivors' voices to advocacy for policy and legislative change. Storytelling has always fascinated me. Usually, I'm on the receiving end, doing the listening, not the talking.
I helped to start the first oral history collection of Muslim Americans archived and preserved in the National Library of Congress as part of the Oral History Association. We collected over 850 stories. People from first-generation to fourth-generation immigrants, converts, secular, Orthodox, everybody under the sun. We're non-political and non-theological. We focus on the human component of stories. People of mixed heritage. We've had so many incredible stories of people of Muslim-Jewish heritage, Muslim-Christian heritage. I just think that's beautiful. That's what connects us all.
When it comes to human rights it's really about sharing these stories. It's about dispelling stereotypes, bringing to light the plights and the triumphs over adversities that people have dealt with because we also don't want to victimize people through their stories. We want to empower them. We need empathy right now. We need to understand that all of us are going through something and there is somebody here to listen to you.
Stories are empowering. Even for me to talk about my mom's story, if you asked me seven months ago I wouldn't be able to do it. It really is because I hope that by sharing this I can reach out to other people that are in this position or have experienced this and if we don't share and stand and say and speak then somebody else will do it for us and maybe you don't want that.
What is one resource you have found helpful in your journey as an activist, therapist, artist, and storyteller? This could be a podcast, book, thinker, artist, any source of wisdom.
I'm thinking about the book Night by Elie Wiesel, the prolific peace activist and writer who wrote his memoir with his father in the concentration camp. The reason why I bring this up is because his story should never be forgotten. The reason why storytelling is so important is because when you read that and you understand the human will to survive and the aspects of spirituality and all the questions that you actually asked me today, it's important that we keep the legacy of stories going. Unfortunately, they are one generation away from being forgotten. It's the stories that preserve history, lessons learned, and reminders of what we went through collectively, what our ancestors went through collectively.
This interview has been edited for length and clarity.
How to Fight Injustice Without Saying a Word
Muslima: Muslim Women's Art & Voices
Muslim American Leadership Alliance (MALA)
Night by Elie Wiesel
Sarah James is the editor-in-chief and founder of Clerestory Magazine. A graduate of Yale and Middlebury, Sarah is a biracial South Indian-American woman of color and a writer. You can find her work elsewhere in The Porch, Darling, and Relevant, among others, or on her website.
Discover more from Sarah James
.